by Hope
So if you will remember, due to my job lay off and being on the edge financially I committed to No Spend November. I have to admit, it has been a very pleasant month.  I did ALOT of cooking and really enjoyed every morning getting up and searching through my cookbooks to find new recipes to try out.  In fact today, I have a hearty vegetable soup going in the crockpot which will be perfect for this cold winter night!
But on the spending side…
We did GREAT with no spend November.  But I did cheat…exactly twice.  Once during the weekend of Little Gymnast meet.  At the end of the meet, we were both starving and while I did have dinner at home in the crockpot, I knew I couldn't make the 3 hour drive without something so when we stopped to get gas, we each got a little snack…$13.59.  And then last night, the last night of the month, I just couldn't resist a celebratory meal out for the kids and I to the tune of $42.  I immediately regretted this second one especially in light of how tight this next month will be, but boy it was good!
Otherwise, I stayed right on track with absolutely NO SPENDING!  Go me, go me!
Now, on the income side…
As I previously wrote, I have gotten a decent part time job which will start in January, but thus far have found no other work. However, I have been very blessed this week by two friends.  One had surgery and the little ones and I volunteered to go help her out for a few days while she was home recovering; she has a 10 month old and 2 year old at home.  It truly was a friend helping a friend.  Then I went to clean out my purse this weekend and there was an envelope in my purse with a check from them.  I called immediately and she said she knew I wouldn't have taken it but they wanted to help me out.  I couldn't help but cry.
And then another friend whose son is in three of my classes, unexpectedly paid me most of next semester's tuition a month early.  What a blessing that was!
The kids and I had a great low key Thanksgiving.  We actually cooked a full meal including a turkey our neighbor gave us!  And better yet, we set up our 6 ft plastic table in the middle of the living room and ate together as a family…the first time we've sat together at a table in our tiny living space…and one of the things I miss the most.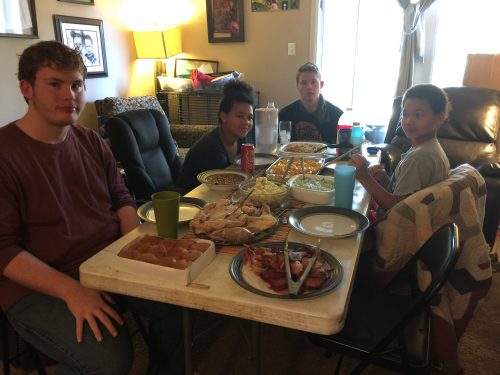 So in a nutshell, my No Spend November went great!  And I am looking forward to Do Good December!