by Hope
For most of the past year, I thought I would be kid free this time next year. Princess would graduate, the twins would have moved out and Gymnast would be living with his dad. That all changed just at a month ago when Gymnast made the decision to complete his high school years here.
Now, I am looking at being kid free three years from now when he graduates. (Don't start with the what ifs, I know he may end up remaining at home after that like the twins did. Although I think it is highly unlikely, and if he does, I still won't be as tied down.)
I am glad Gymnast is back, and I'm coming to realize that I need these 3 years to get my plan together…
Have You Ever
I am really thinking that I would like to become a full time RV dweller once I'm kid free, at least for a while. Now don't get me wrong, I am not a camper. And living in a small camper for 9 months cured me of those thoughts with the kids. But being a solo, or twosome, and RV'ing is actually enticing. Have you ever had some wild and crazy, big lifestyle dreams?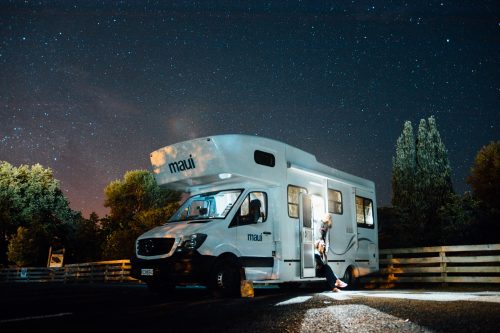 Now hear me out…
If I continue at my current debt payoff rate, there is no reason I can't be completely debt free in three years, or relatively close to it.
At the same time, if I put my mind to it, I could probably save for a pretty hefty down payment or even cash buy on a good condition used RV and make some modifications to suit me. So little to no debt.
From what I'm reading, there are lots of places to stay for free, if you have the set up for "boon-docking" which is most appealing to this introvert, and camp grounds median price is less than my current rent.
I know it wouldn't be a forever plan, but a few years. I really think it could be fun and satisfy my constant, I want to travel bug. Three years gives me lots of time to plan and save, and of course, anything can happen in three years. But a girl can dream!
I'd love your feedback on this idea especially if you have any experience as I certainly don't!
Editors note: if you're interested in more kid related topics, consider checking out Kidwealth.com, its a new player on the parenting blog sphere.