by Elizabeth S.
This post is not my favorite.
Financial Progress
So, how am I doing?
Here's where I was in July: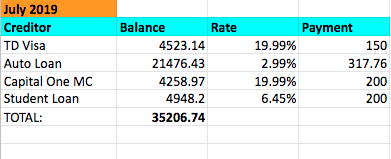 Here is where I was last time I gave you totals (November):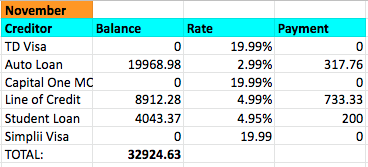 And here is where I am now: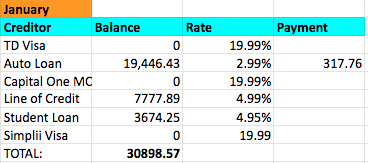 As for my savings, I started giving you totals in September. Here's where I am now:

Takeaways
I've only paid off $4308.17 of debt since July. I'm not happy with that at all. I really did think it would be a higher number by now.
Back in July, I started tracking my savings with about $12k of RRSPs. I had $0 in my savings account and no WealthSimple (my fun investing account with is returning 12.4% today). In that sense, I'm doing better. I've said over $5000 since then. But I could have saved a lot more.
Wakeup Call
I'm hitting the books today to make a plan. The only way I seem to be effective at paying off debt and saving money is to automatically deduct things. Clearly, I can't be trusted with cash in hand. With that in mind, I'm off to figure out how best to manage to keep my money from myself until I can be more responsible with it.
Thank you to the readers, both friendly and critical. I am reading all of your tips and thinking hard about what to do next.
I've been bad. Let's end this with a picture of a Very Good Girl.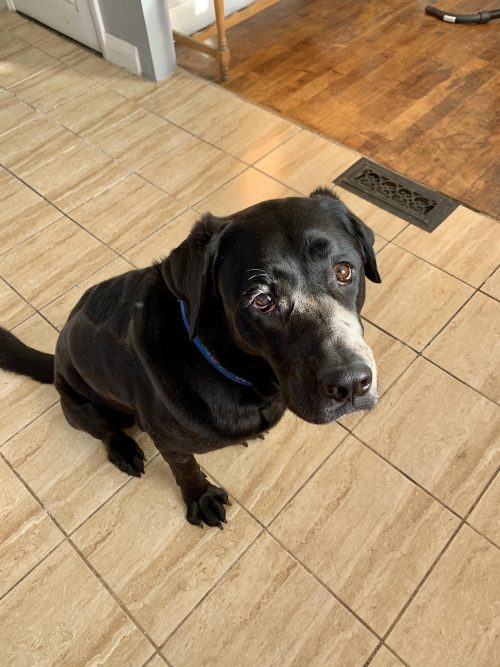 Elizabeth is a single woman in her early 30s, working as a manager at a software company and living in the most expensive city in Canada. She hopes to blog about her journey to eliminate debt and build savings for home ownership someday. Whenever she has taken two financial steps forward, she's always taken a step back with a bad credit card purchase (we're looking at you, unnecessary iPhone of May 2019). Elizabeth lives alone with her fur kids, a dog and cat, and when she's not in front of the computer, she enjoys running, camping, reading, and baseball.