by Sara S
My husband was out of town at his grandma's funeral this weekend, and I had some quiet evenings to do some reflecting. One thing I wanted to see was our progress with our student loan. Is all this hustling and cutting back making a difference? So one night I put together a new spreadsheet (because I know how to party).
And then I had a major reality check.
I've been good about tracking certain numbers, but I didn't have one chart that showed all our progress. I especially wanted to see how much we're really paying each month, and how much longer until this is all over.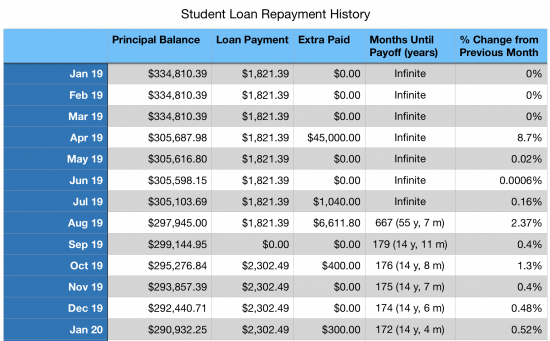 Wow. Anything jump out at you? Here's what made my eyes pop:
A year ago, we were literally never going to pay off our loan.
I did not understand just hoooow loooong we were paying off interest only on our loan. We were income-based for years, and then flat-out negligent. That means that less than a year ago, we were set to pay on this loan perpetually, always, henceforth, and forever. We were never going to shake this thing! How were we sleeping at night?!
I felt like we were making more extra payments than we actually are.
"Feeling" like you're doing something and actually doing it are totally different things. When we refinanced with Earnest last September, our monthly loan payment jumped from $1,821.39 to $2,302.49, so it already felt like we were paying a ton of extra.
Even though it's in our budget to put our monthly excess towards our loan, I hadn't appreciated how many months we sabotaged our "extra" plans and used that money for other things. We've either paid ourselves less from the business and lived off the extra, or we've used that extra for necessary things that should have come from our emergency fund. Sloppy, sloppy.
This was a wake-up call. Yes, we're making debt progress. I'm seriously grateful for that. Paying it off in 14 years is better than 55 years (and definitely better than infinity and beyond). But when we refinanced to a 15-year loan, we vowed to pay it off early. It's time to actually do that.
The next auto-payment on our loan goes through this Saturday, and I've already scheduled an additional $2,015 to put towards it that day. (I'm using money from that refund check from our state, but we decided to save the rest. We were warned that once your state audits you, it's only a matter of time before the IRS comes calling. So that's cool.)
Our principal balance today is $290,932.25, so after this weekend we'll pass $290,000 and hit the first mini-milestone we set for ourselves. We'll mark our debt progress on our charts with our kids, and then enjoy some "real" pizza (after tons of homemade, we're ready for you, Papa Johns).
That spreadsheet should be looking better and better these next few months. Stay tuned.
Incidentally, if you want a good basic primer on paying off debt, consider reading The Wealthy Post's comprehensive article on pay off debt on a low income.  That article is here.