by Elizabeth S.
How much should your average monthly grocery bill be? And how much should you lower it by if you're trying to save money? BAD readers know this topic is very dear to my heart. Unnecessary food spending is one of my big, glaring areas for improvement. This is a timely topic, as Hope has just written about food spending. This can also be a tricky topic because there are socioeconomic, cultural, and location factors at play.
Average Monthly Grocery Bill for 2
The USDA publishes monthly Cost of Food at Home reports. According to the USDA monthly report for October 2019, the average couple spends $617 per month on groceries alone. That's right, that figure doesn't include eating out. This is a number that has increased dramatically over the past couple of years. And it makes sense! The media is saturated with celebrity chef programs teaching us how to make gourmet food. Magazines display glamorous full-spread photos of decadent, luxurious meals. Instagram tortures us with perfectly filtered images of our friends at the hottest restaurants. As a society, we want to eat well, however we define that individually.
$617 will sound like a lot of money to some, and not that much for others. In Manhattan, there are very few sprawling supermarkets. There are boutique grocery stores and people pay top dollar for fresh meat and produce. I've been to Whole Foods and Trader Joes in the city. It can be hard to walk out spending less than $20 on ingredients for dinner for two. In the suburbs, there is more variety. There, you'll find discount markets like Aldi and can save a bunch by shopping wisely.
Average Grocery Bill for 4
I mentioned the USDA monthly food cost reports. These include four income plans: Thrifty, Low-Cost, Moderate-Cost, and Liberal. They break these numbers out by gender and age, which is fascinating if you ask me!  A family of four with young kids on the Moderate-Cost plan spends $894.40 a month on groceries. Families with older kids spend $1067.50. The truth is, these numbers vary wildly based on where you live and what kind of food you eat. Hawaii and Washington, DC. have grocery costs that might make someone in Ohio faint. The Thrifty plan suggests thrifty families (by choice or otherwise) are spending $567.80
There is a lot of variety in family grocery cost. Many families nowadays are vegetarian or eating less meat. This tends to be cheaper than eating every meal centered around a meat protein. Where I live, there are a lot of South Asian people, and many were raised vegetarian. And for omnivores, there are still a lot of options for saving money. Asian grocery stores where I live sell meat and produce at 30-60% cheaper than the big supermarket chains. On the other hand, premium grocery stores can have truly wild expenses. I've seen $6 celery and romaine lettuce in the last couple of months.
Where can you save money on the grocery bill?
I have a friend who is married and has a two-year-old. He feeds his family on $275 a month. He said they never tire of fish or chicken thighs with rice and vegetables. That said, there are a lot of food adventures you can embark on to save money! Try something exotic. Eating homemade curries or noodle dishes could save you a bundle! Meals based around rice, legumes, and noodles can be an excellent bargain. This is an image of a pork belly ramen I made with a drizzle of black garlic oil. It was incredibly tasty, served a crowd, and cost me next to nothing. The broth was made with meat and veggie scraps I kept in the freezer, and the pork belly was on sale.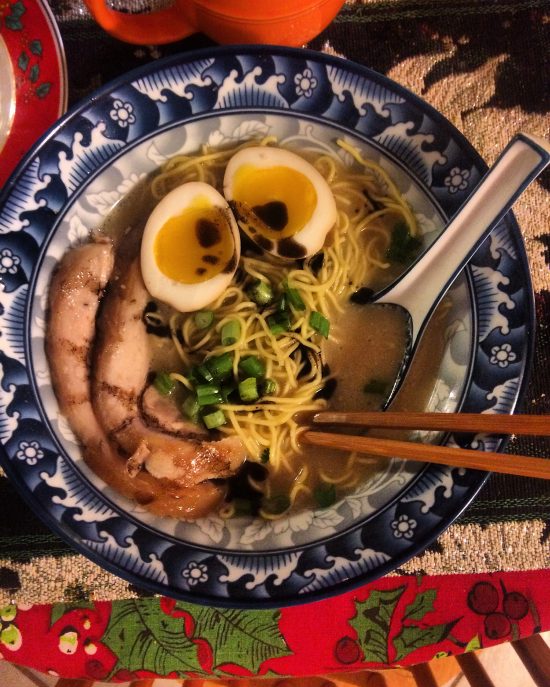 For those on the low carb train, eggs, ground meat, and value meats such as whole chicken or pork shoulder can be lifesavers.
Personally, I'm having a hard time nailing down what I spend on food. This is because grocery stores selling clothes, pet supplies, cleaning stuff, etc. I saved all of my receipts and checked my spending for October. It looks like I spent $308. At any rate, I could definitely have spent less. But I used to spend a lot more! I use an app to compare prices for big-ticket items like beef roast at different markets, and I no longer feed my friends for free every other week. Little victories, right?
What's your average monthly grocery bill? How do you save money on groceries? 
Elizabeth is a single woman in her early 30s, working as a manager at a software company and living in the most expensive city in Canada. She hopes to blog about her journey to eliminate debt and build savings for home ownership someday. Whenever she has taken two financial steps forward, she's always taken a step back with a bad credit card purchase (we're looking at you, unnecessary iPhone of May 2019). Elizabeth lives alone with her fur kids, a dog and cat, and when she's not in front of the computer, she enjoys running, camping, reading, and baseball.