by Sara S
Hi! I'm Sara, the newest member of the Blogging Away Debt team. I'm excited to be here—not because I'm happy to be drowning in debt, but because I know the BAD community gives hope, tough love, and motivation to each other. You are my kind of people. Plus my family and friends can only listen to so much of my financial talk, so I'm grateful to have an outlet and a place to document our progress.
So what's my story? I'm a writer and mom to three under 10, living in the beautiful Pacific Northwest. I'm in my late 30s, and I love hiking, reading, gardening, and binge-watching Netflix while I do the dishes. Together my husband and I run a business that we love, sometimes hate, and has required a ton of loans.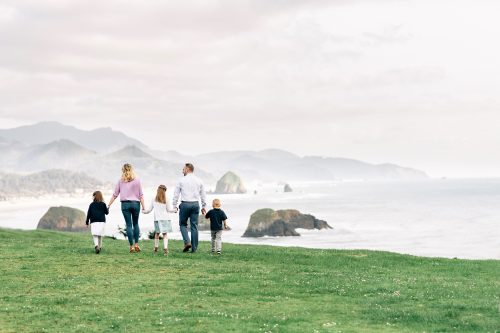 Honestly, our business debts are getting paid off and they're not the ones that worry me most. Even our $280,000 mortgage isn't the scariest of our debts. We have no credit card debt. No car payments. No personal loans. So what overwhelms me most? Without a doubt it's our beast of a student loan.
My husband's career in healthcare required a serious and staggering investment in his education, and we just didn't know how to succeed in his field without taking out loan after loan. We foolishly borrowed during his school years like it was Monopoly money.
Now we have a good, growing business, but we've made very little progress on our student loan. He graduated seven years ago with (gulp) $358,000 of student loans. Want to know how much is still hanging over our heads?

Those numbers take my breath away! For years after school, we could only make income-based payments that barely paid off the interest. We lived frugally but with no set budget, and we just sort of assumed it'd eventually get paid off somehow. We were in denial that at the rate we were going, we'd be paying for this loan until the end of time.
About three years ago, I stumbled upon "The Total Money Makeover" by Dave Ramsey. For the first time I saw our situation clearly, and instead of panicking, I saw there was a plan. Baby steps. A way out. Hope! I saw that our debt could actually be paid off.?? My husband, on the other hand, didn't really catch the vision until this summer. And even though we still disagree sometimes on what course to take, we're finally making a dent.
Here's what's worked for us so far:
– Refinancing our student loan: we changed from My Great Lakes to Earnest in September, dropping our rate from 7.2% to 4.55% (hallelujah!)
– Budgeting with the free Every Dollar App: we can be sloppy sometimes, but we're still more aware of our spending than we've ever been
– Picking up side hustles: this week alone we've each taken on a new side job, and we plan to put that money towards our loan
It's a start. I look forward to the day when I can breathe easier and declare us debt-free, but in the mean time I'm going to share our ups and our downs, our good choices and our stupid mistakes. I'm thankful for this community and the chance to learn from each other.
Here we go!
Anybody else out there owe more on their student loans than their mortgage? Any advice on how to carve away at such a colossal debt?