by Elizabeth S.
Finance is a part of life that has to be managed, along with health, relationships, work, and the rest. And life is very difficult to manage when your mental health takes a strike. That's why I've decided it's time to focus on my mental health. This will probably impact my budget a bit, despite my benefits.
Work has been nutty
I've been run ragged at work lately. We've had a number of issues arise that have led to me working well into the nights. In addition, my mother's house sold and so my family is packing up and moving in a matter of a couple of weeks. I haven't had much free time (read: minutes a day!). I'm not sleeping well, not exercising regularly, and feeling like I can't keep up.
It started with a cold about two weeks ago. I couldn't take a sick day because the guy in the UK called in sick before me each day. Three days in a row. By the second day, we were in a crisis at work and had C-level execs on a 24-hour conference line working through the issues. Work from home it was. Those were some long days…
And then there were the holidays
I was still sick and run down. Thanksgiving weekend, I visited my family and had dinners with everyone, and had work to catch up on, too. It's not a holiday for my clients in the US! I was still submitting data to be processed in batches that were running overnight, and waking up at 5am to check on them. Then, I'd take cold medicine to go back to sleep a couple hours and wake up with that groggy got-hit-by-a-bus feeling. But I was still motoring along – this isn't a man cold (side note: what a horrible stereotype – everyone needs to rest when sick!). I cleaned the house, exercised the dog, stayed on top of work.
A weekend to "rest"
I left for my dad's on Friday and was looking forward to a relaxing weekend with my dad and stepmom. And mostly it was great! We did a lot of hiking and had fires at night. We played music and told stories and enjoyed the incredible foliage.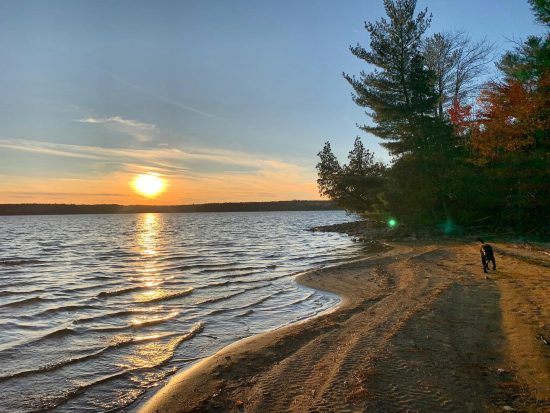 It was lovely, but I could feel the anxiety building while packing up my car. Driving home Sunday, I was feeling sick within the first mile. When I was about 20 minutes from my dad's, I had pulled over four times. I almost called 911 but realized it must be a panic attack. I couldn't breathe and it felt like the car wouldn't drive straight. Not good on the winding, hilly, country roads out in the Kawarthas region!
I called my dad, and he came to get me. They only have one car right now and my stepmom was at work. There is no public transit out there and even taxis are hard to come by, so that took some time. He drove my car home to Toronto while I cried and tried to breathe. I won't get into all the details of my panic attack, but I was very physically ill. We stopped for me to be sick a few times. He ended up taking a four-hour coach bus back to his neck of the woods. What I wouldn't do without that man in my life.
What now?
I still can't drive. I've tried twice, and when I go over 25 MPH it feels like I can't control the car. I went to work Monday and Tuesday and that wasn't the best idea. I've had a headache and nausea non-stop since Sunday. I am NEVER sick, and hardly ever go to the doctor, so I've been stubbornly refusing to deal with this. I have been drinking water and tea, and eating light nutritious meals, hoping this will pass. And it isn't. I can't figure out if I am suffering from some kind of inner ear imbalance affecting my ability to drive. It feels like the steering pulls hard left but my car was at the dealership two weeks ago for maintenance and my dad said the alignment is fine. But I suspect this is psychological as well. I am so anxious, I am overcome with worry most of the day.
I've never had mental health issues in my 32 years, thankfully. I've always adjusted with sleep and exercise but I just…can't. I can't this time. And I feel guilty, embarrassed, and scared of needing to find help now. I feel like a real failure. I've always been the stable one.
Time to ask for help
I called the hospital Sunday and asked for the distress line. They said they couldn't help me unless I was going to harm myself, and to see my family doctor for a psych referral. I emailed some clinics begging for a last minute spot, saying I can pay for the appointment but need to see someone urgently, and I got nowhere. There are social services for youth, young parents, and families but not for single adults. I found some apps:
BetterHelp is an app that connects you with a therapist right away. It's about $80/week CAD and you pay for the month up front. It can't be submitted through benefits.
A service called Maple here in Canada has on-demand licensed therapy. It's $120/session but can be submitted through benefits programs that allow for psychotherapy. They provide a session within 12 hours of signing up.
I think I'm going to take a sick day tomorrow to go see my family doctor as well. I'd like to eliminate any physical symptoms so I can focus on this paralyzing anxiety. If anyone has any suggestions for me, I'm all ears. I have $500 a year for therapy in my benefits, and another $750 in my health spending account. I'm going to research the best way to go about this tomorrow.
Elizabeth is a single woman in her early 30s, working as a manager at a software company and living in the most expensive city in Canada. She hopes to blog about her journey to eliminate debt and build savings for home ownership someday. Whenever she has taken two financial steps forward, she's always taken a step back with a bad credit card purchase (we're looking at you, unnecessary iPhone of May 2019). Elizabeth lives alone with her fur kids, a dog and cat, and when she's not in front of the computer, she enjoys running, camping, reading, and baseball.