by Hope
As everyone knows, we had a great #NoSpendJanuary. While I did very briefly toy with the idea of extending it for a few weeks into February like I did back in October, I am definitely not in the mindset to continue.
BUT while I was perusing Facebook this morning, I did find a challenge that appealed to me. And it will definitely contribute to our continued financial gain.
Are you ready to join me for a February Eat at Home Challenge?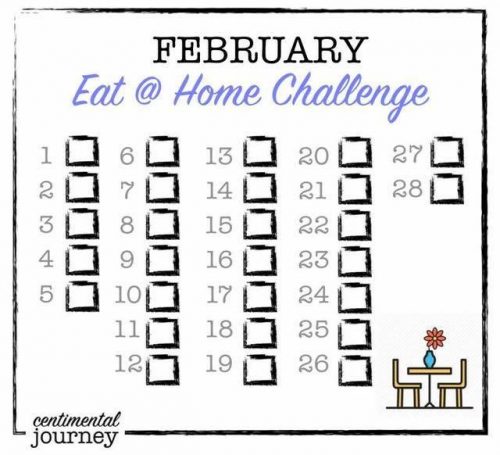 Needless to say, I did not create this. They have one posted for every month in the Dave Ramsey Facebook group I belong too. And since eating out is definitely my hardest challenge. I thought this would be a great challenge for me.
Between the kids and I, we have planned out 3 weeks of meals already. And I just have to hit the grocery store and stock up with the list we made from our meal plan.
I am not sure I can commit to every meal at home this month because I really need a break from home right now. And dishes! But I am up for a challenge.
I think I'm going to make a goal of eating 6 home cooked dinners a night at home. And the 7th night will be leftovers.
But I'm going to give myself a little leeway during the day when it's just me. I can go to the local coffee shop and get soup for $2.50 at lunch time.
Who's in? Or who has another February Challenge idea for the BAD community? I'm open to suggestions.