by Hope
I know we are now past the gift giving holiday, but I couldn't resist sharing this idea. My cousin created these adorable handmade magnets as gifts for our extended family. And I couldn't help but steal the idea for myself.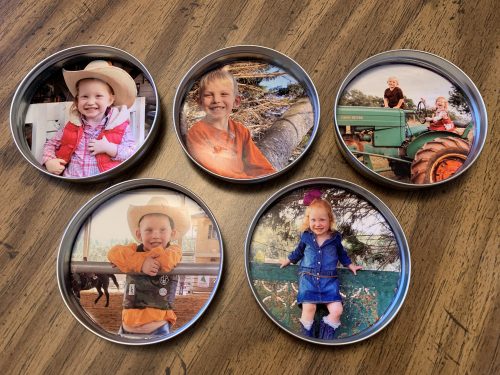 Are they not adorable? I thought one of the BAD members might like the idea for down the road as well!
When my grandmother first opened the present, she wasn't sure what they were.  At first, she thought they were coasters, which would actually be a good idea too. But  in this case, they are magnets, featuring my cousin's adorable kiddos.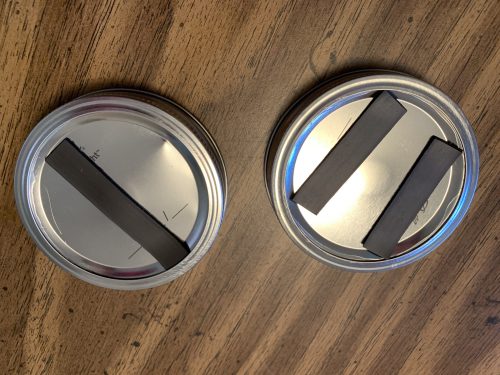 How to Make these Magnets
The supplies needed are items most people have around their homes:
Can lid
Cardstock or thin cardboard
Glue
Pencil
Scissors
Magnet strips
Pictures
Modge Podge (optional, but necessary if you want to make them coasters instead)
Directions to Make Magnets
The directions are pretty straightforward and of course, you can modify as you see fit for your own project.
Trace the outline of the lid on the cardstock/cardboard and on the back of the photos.
Cut them out and glue the photo onto the cardstock/cardboard.
Glue the cardstock/cardboard into the inside of the lid. It should fit snug. (My cousin used the two part Ball can lids which made this step even easier.)
Add the magnet strips to the top of the can lid.
And voila, you are done. A completely homemade, customized gift for your favorite loved one to enjoy daily when they look at their refrigerator covered with smiling faces!
Make it a Coaster
Modifying this project to make a set of coasters instead of magnets is pretty simple.
Skip step #4 above.
Instead put several coats of Modge Podge on the images. Don't spread it too thick or it may smear or tear the photo. And let each coat dry completely.
No promises on these coasters lasting forever, but as long as they don't get soaked, they will make a very cute set of coasters.
Did you get any cute, homemade gifts this Christmas? Or make some yourself?