by Hope
As I mentioned, we traveled up to Virginia this past weekend to pick Sea Cadet up from his summer job at the summer camp. And we got to spend a day with History Buff.
We stayed with my uncle and ate at his house with the exception of a meal out to Chic Fil A (less than $30.) It was a pretty inexpensive trip, a quick trip. We drove up Friday and drove back Sunday.
BUT…my wonderful friend and barter buddy did take some new family photos for me! No cost! Yeah!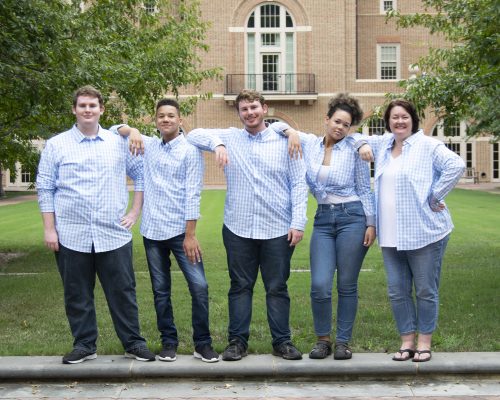 Well, there was one cost…we all got matching shirts for the picture. I found them on the Walmart clearance rack for $11 each. And I think everyone but maybe Princess will wear it again. I know all the boys will.
This picture is an example of how far I've come. In the past, I've made sure all the shoes matched, the jeans were the right shade and often times had silly props for our pictures. While I did want a coordinated picture, I think I did a pretty good job of getting this priceless momento (and lots of others including individual shots) for the $55 shirt cost.
I will print a few on my home printer, frame them with Dollar General frames and love them forever. It was SO good to all be together even if it was just one day. (We hadn't all been together since History Buff moved out in December, 2016.)
I feel like this should be one of those commercials as I write it…$35 fast food family meal, $55 for 5 matching shirts, family photos…PRICELESS!  This sentimental mom is so grateful for this quick trip and the smiles and camaraderie I saw between my kids.