by Ashley
Our twins' 6th birthday is coming up (side-bar: I can't even believe it! I've been blogging since they were toddlers!!). So I wanted to talk a bit about kid presents & parties.
In the past, we haven't really done kid "parties," per se.
For their first birthday it was literally just the four of us (the two girl + me and hubs) at home.
For their second birthday, we decided to have a small get together last-minute and just had cheap food like hot dogs, chips and salsa, and homemade birthday cake.
For their third birthday, we were in Utah with family. We bought cupcakes and that was the extent of it.
For their fourth birthday, we had an at-home party. This was the biggest party to date: we bought cakes instead of making our own and we rented a bounce house for a couple hours. I tried to keep cost down, as we did all our own homemade decorations, a lot of homemade foods, and since the party was at our house we had no overhead in terms of renting a party venue. In the end the total party cost was about $500.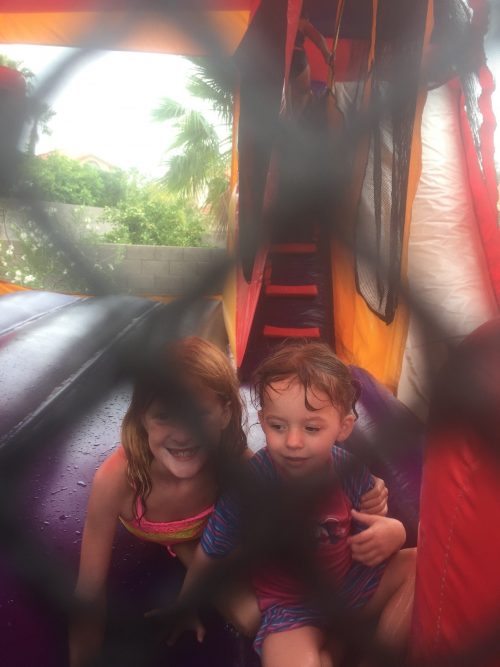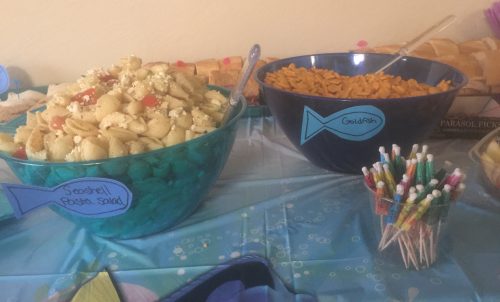 For their fifth birthday, we were in Texas with family. We went to my brother's house and had a pool party there. Again, we bought some cupcakes but that was the extent of it.
Upcoming Birthday
This past year the girls were in kindergarten and they've really started to experience the whole "birthday" thing. They've gone to other kids' birthdays throughout the year and seen the whole variety of party places and themes. And they're old enough now that they really have strong opinions and wants and desires. And when we talked about birthdays, they both knew what they wanted to do:

They begged and pleaded for a Pump It Up party!!!
This will be our first year to actually rent a venue and have the party somewhere other than our home (or a home of a family member). And you know what????? They're EXPENSIVE!!!!
We wanted to let our kids have the experience they desired. It's their first time ever, after all. But we also had to figure out a way to do so that would work with our budget. First, we knew a weekend was out of the question. The cost is substantially more on weekends. No problem, we decided to do it on their actual birthday (a weekday) in the evening so their friends who have parents that work can still attend. That saved us nearly $100 right off the bat!
We also decided to go minimal with basically everything else. We kept the invite count low so we could get the smallest party package. Pump it Up provides invitations so we used those instead of buying any. They also provide paper products (plates, napkins, cups, and cutlery). The big downside is we have to do our food through them. The party package includes 2 pizzas (+ drinks), but since the girls are still at the age where many parents attend the party, too, we felt like we needed to add 2 more pizzas to the order to accommodate adults who may be present. That was an extra $28 upcharge ($14/large pizza – really not a bad price. More expensive than the $5 Hot and Ready pizzas I would've otherwise bought, but $14/pizza isn't a terrible price gouge like it could have been).
I've also spent right at $30 for goody bags and things to go inside (e.g., candy, small toys, stickers, etc.), and I plan to spend about another $20 for cake (which is the only "outside food" they allow you to bring). I was also told I could supply bottles of water (they provide pitchers with lemonade, juice, and soda), so I'll likely pick up a case from Costco to bring.
All-in-all, we should be under $400 spent for the party. Not too shabby considering our at-home party cost for their 4th birthday was $500!
The one other big thing is in regard to presents.
Maybe this is controversial (???), but we decided NOT to do presents this year. The party, itself, is the girls' present. They were aware of this when they made the decision to do a party at Pump It Up. We've already received 2 big boxes of presents from family back in Texas and I know they'll receive gifts from all their friends coming to the party. There's really nothing else they need or want right now, so with the abundance of gifts from others, hubs and I don't feel like we need to go out and splurge on any big gifts (or even small ones for that matter) right now. The girls will need some new clothes in the coming months as back-to-school time approaches, and likely some new tennis shoes, too. So they'll get some new things in about a month or so. But there's no need for any big gifts right now.
All-in-all, I'm excited to do a party at a party venue.
The girls are super pumped up and have been doing a countdown for over a week already (their party is this coming week). I know a party at a venue will be substantially less work in terms of set-up and clean-up, and its nice that the venue provides so much stuff for us. It's almost like we just need to show up and relax. None of the up-front planning and preparation that was required for the 4th birthday at-home party. I still prefer the freedom and flexibility of being able to do our own food and snacks, which we don't get with this venue. But since its looking like it will be the same cost (or even cheaper) than the at-home party, plus a lot less planning and prep work, this could turn out to be the best birthday yet!
What do you usually budget for kids' birthday parties and/or presents?
Have you ever skipped the gift in lieu of doing a larger party?