by Hope
Over the last year, I have gotten my nails done regularly. It began the day before my job interview for my W2 job and has continued up until a little over a month ago. Even though I knew I needed that money elsewhere, I regularly had them done.
I always justified it by saying, I need to have a good corporate image. I don't spend money on make up or my hair, this is my treat. There was always a good excuse. At $40 a visit, it is no small cost when you go regularly!
When I lost my job in January, I did start going longer and longer between appointments, but I still didn't stop. And as things have gotten tighter and tighter, I am more and more convicted by this type of "extra."
Last week, I went to the nail salon to have the industrial strength nail polish removed. It cost me $10. And have since bitten my nails to the quick.
In reality, I don't know if people even look at your hands. However, I'm on a computer all the time so I see them regularly. Between the job loss, financial instability, etc. well, this one more thing tipped me over the edge.
DIY Nails
I decided to do something about it. Wal-mart shopping it was. Last night, I went and bought the basic necessities for doing my own nails. I bought a file, nail trimmers, one bottle of clear polish and one bottle of color. Now, I will admit I bought a good brand, in hopes it won't chip as quickly.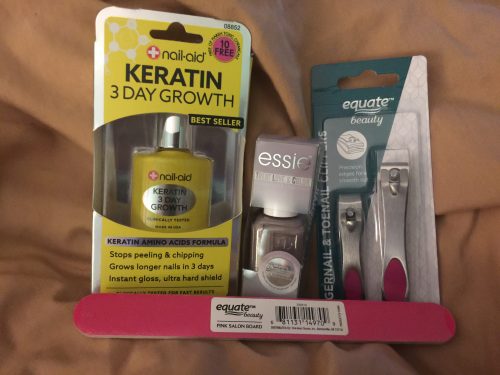 In the end, for less than the cost of one nail salon visit, I should be able to do my own nails for months.
A Long Way to Go
As proud as I am for how far I have come in the last four years, these little things still remind me that I have a LONG way to go in my relationship with money.
Here's to all the DIY women out there making good financial choices especially in regards to our personal appearance and hygiene. Those costs can add up quickly if you are not careful.
What do you do for self care? How do you minimize the cost? Do you have a treat or splurge for yourself?