by Ashley
Week 2 is in the books! It felt a bit tougher than Week 1, but I just completed our Dream Dinners session on Friday so our freezer is jam-packed with foods that should successfully take us through our planned No Spend Week this week. Actually – I'm going to try to make the no spend "week" more of a week-and-a-half-ish. We should have plenty and just be able to supplement with fresh fruits, veggies, and dairy (milk/eggs). We'll need to do that if we want to stay within budget for the month!
For Week 2 (April 8-15), we spent $157 eating out and $113 at the grocery store.
The reason our eating out budget was super high was because we had family traveling through the area so we had one dinner out with the whole family that came out to $100! It definitely put a dent in our restaurant budget! I'm using Every Dollar to track expenses and put our planned restaurant spending at $200 for the month. At the half-way point in the month, we only have $22 remaining. It won't be easy, but with some planning and advance prep, we can make it work.
I set our Grocery budget at $350, of which we have $108 remaining. I already stocked up on some fresh produce for this week so we'll try to get through the entire week without any grocery shopping (or just supplementing with fresh produce and dairy – no more than $10-15)!  That leaves us about $100 for the last week of the month. It definitely helps to have a freezer full of Dream Dinners (and other frozen stuff like veggies, meats, etc.) Again, it'll be tight but we should be able to make it through the end of the month.
Getting Creative With Meals
I'm already starting the process of "shopping my pantry" and planning meals out of the foods we have on-hand. I wanted to show one little trick I used last week to make a meal work.
I was planning to do chicken tacos with Mexican rice and refried beans. When I was half-way through making the meal and looking through my pantry for Mexican rice, I realized I was all out. I did, however, have this Chicken Flavored Rice & Sauce. Not what I'd been going for, but I figured it would do the trick. I made the package of rice and added some taco seasoning (I have a giant thing of taco seasoning from Costco).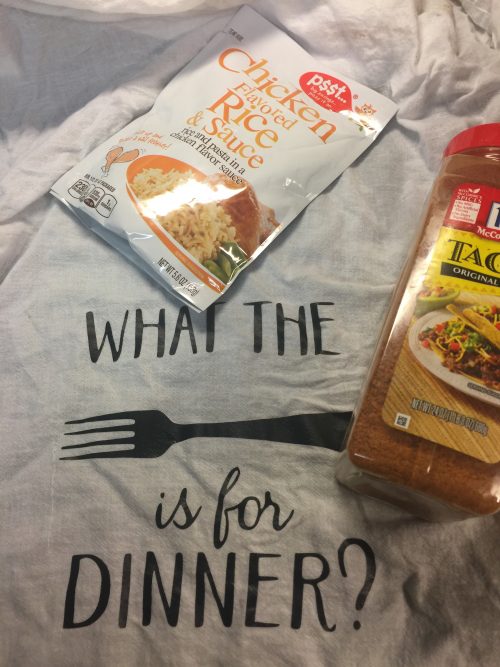 Towel was a gift my sister made for me. 🙂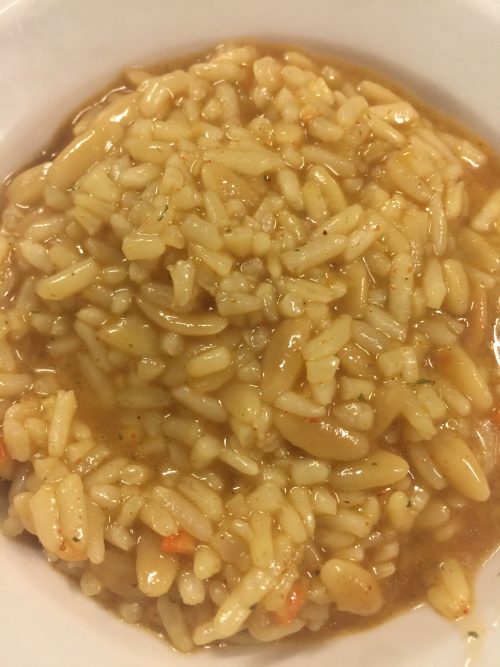 Look, I ain't gonna lie. Wasn't the best "Mexican Rice" I've ever had. But it did the trick, the kids ate it up, and it served as a nice accompaniment with our meal for the night. I've since bought a big box of white Minute Rice so we've got plenty of rice on-hand for the rest of the month (and beyond – the big boxes tend to last us several months).
What's an example of a "creative meal" you came up with from foods you already had on-hand?