Happy first day of March!
I hope all are doing well! I always like the first day of a new month because it feels like a mini "refresh" of some sorts. A fresh month, fresh budget, fresh chance to get it right.
And I'm in a bit of budget start-over mode over here.
I belong to a Dave Ramsey group on Facebook and took a screen shot when someone posted Dave Ramsey's suggested budget percentages: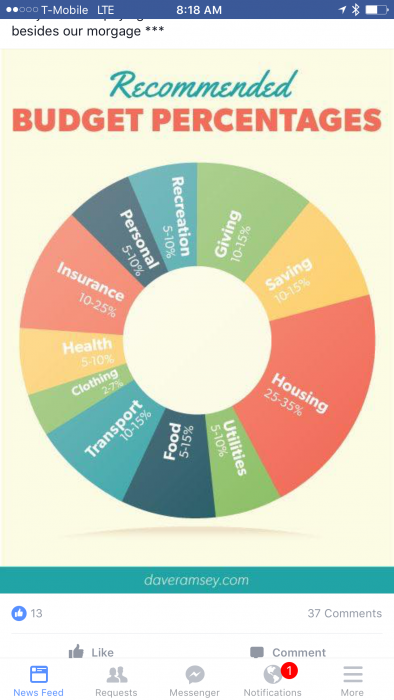 (I later found the image on Dave's site HERE, just to give proper credit).
Here's how it all breaks down:
| | |
| --- | --- |
|   | Recommended |
| Housing | 25-35% |
| Saving | 10-15% |
| Insurance | 10-25% |
| Giving | 10-15% |
| Transport | 10-15% |
| Food | 5-15% |
| Utilities | 5-10% |
| Health | 5-10% |
| Personal | 5-10% |
| Recreation | 5-10% |
| Clothing | 2-7% |
| Cumulative Total | 92% – 167% |
Unfortunately, there's such a huge range that the cumulative total ranges from 92% to 167%. That means, if I were to use this budget as a model, I'd need to stay on the low end for most of these categories.
But when I sat down and started trying to put pen to paper to see how this sample budget would work out for my household, I realized it just doesn't. Why?
Because we still have a disgusting amount of DEBT, that's why!
Notice there's no "Debt" category at all in this budget! Sooooo maybe this budget is for people who are already debt-free??? Our debt takes up a huge percentage of our take-home pay (roughly a third). Plus, the budget above seems to be operating on gross pay but I typically budget using net monthly take-home pay (insurance and required retirement contributions are already withheld from my paycheck).
At any rate, this seems like a good starting point but I would love some tips or pointers! I'm really at a start-over here with our household budget, trying to make it all make sense. Now that hubs is working, a bit of the stress is off because he's been able to pay for most of his own expenses (fuel, personal money, eating out, etc.). But we're still not in a great financial position and I'm beyond ready to get a better handle on our finances again!
Any tips for budgeting suggestions, links to websites, books, etc., with suggested budget allocations that work for someone whose still in debt??? Is it