by Ashley
One of our big downfalls with our budget has historically been in the area of food. We've relied a lot on eating out for quick and easy meals when time is short, work in long, etc. But because of you guys, I've been challenging myself to try to make more freezer meals. Over Thanksgiving week (really, in the wake of Thanksgiving), I created several freezer meals to have on-hand that can help with those busy nights when I know I won't have time to cook.
My photography skills are not the best, but this will give you an idea of some of the things I've thrown together and will maybe give you an idea or two for creating Freezer Meals out of leftovers at your house!
Turkey Shephard's Pie: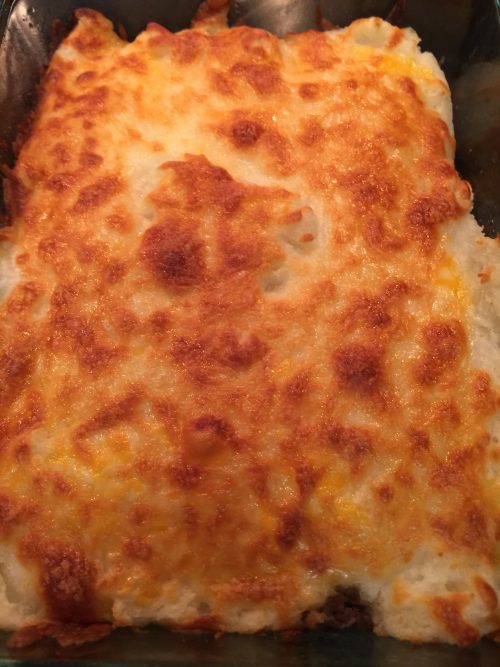 This meal was truly thrown together as a random hodgepodge of ingredients, but it worked out so well together! I did a take on "Shepherd's Pie", but using turkey! I made it up as I went, but it was somewhat similar to this recipe. I used shredded turkey that had been chopped up (rather than ground turkey). I didn't use the heavy cream or egg and, instead, had stirred in a can of cream-of-celery soup to the meat mixture. I still did include peas with the meat, topped it all with potatoes, and then a generous serving of cheese. It was delicious!
Turkey Enchiladas Verde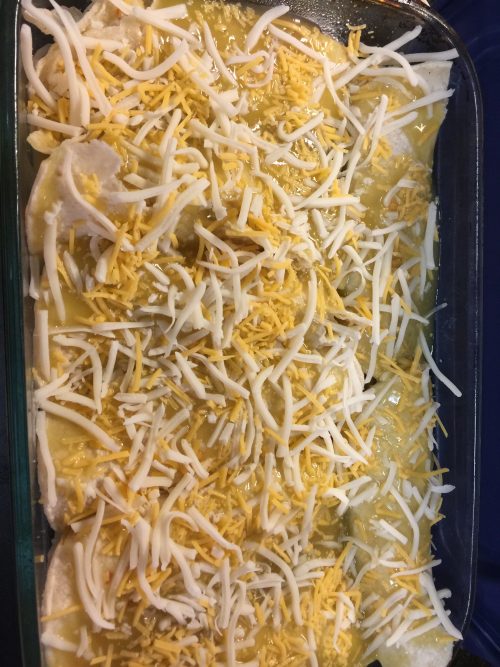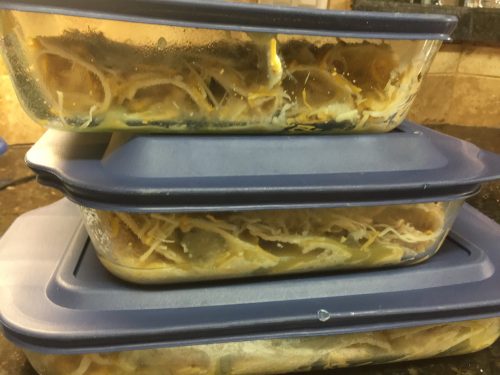 I got real ambitious in making a TON of enchiladas! We had a MASSIVE turkey (16-lb. for our family of 4!) so this was the one meal I planned on making ahead-of-time, knowing it would be a great way to use up a bunch of turkey. In all, I made 3 containers-worth of turkey enchiladas. I used up a can of green chilies that had been in my pantry for a long time and used a store-bought can of verde enchilada sauce. Topped with some cheese, and placed gently in the freezer for future use.
Turkey Sandwiches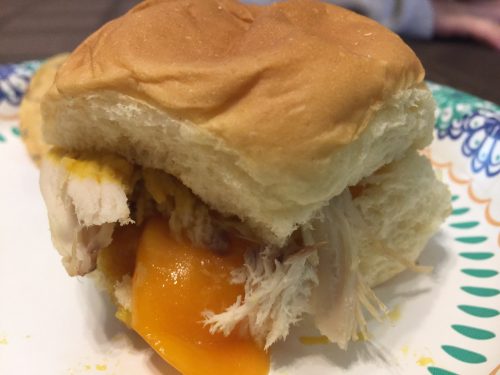 There's no reason that every meal has to be this big, elaborate thing. My Mom was a stay-at-home Mom until I was a teenager, so I think I got used to each meal being this "event." Every meal (breakfast, lunch, and dinner) was served at the dinner table with everything nicely "set" and each meal was totally balanced: fruit, vegetable, protein, and dairy. <3
I love my mom and would love to emulate her in any way I can. I still insist that we eat at the dinner table each night together because I think it's nice to sit all together and talk about our days, etc. But I also don't think every meal needs to be this big elaborate thing. One night we just had plain-jana leftover turkey sandwiches. I made a little honey mustard sauce (literally just mixing together honey and mustard) and it was a tasty dinner one night with carrot slices and chips on the side as accompaniments.
Thanksgiving Bowl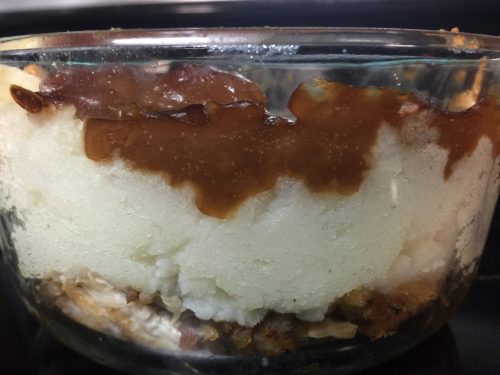 Probably the ugliest picture of them all (and this was totally lopsided because I swear the potatoes were not that out-of-portion with the rest of the meal!), but this is what I called the "Thanksgiving Bowl." I got the idea from the KFC Bowl. If you're unfamiliar, the KFC bowl consists of layered food: mashed potatoes, sweet corn, and fried chicken, with gravy and cheese on top. Sounds like a lot going on in one bowl, but it comes together nicely. I decided to do a similar thing with leftover Thanksgiving Food. In our bowl, I layered turkey on the bottom, leftover stuffing, sweet corn, mashed potatoes, and gravy. It looked pretty gross, but it tasted delicious! The kids gobbled it up, each asking for more! That's a win in my book!
Turkey Noodle Soup
Last but not least (and, unfortunately, I forgot to take a photo), I did a turkey noodle soup! I used the turkey bones to make a homemade turkey broth (remember my last homemade broth?). To it, I added turkey, chopped carrots and celery, and some frozen noodles. This was our last of the Thanksgiving-related meals. We had one serving while still "fresh" and I froze the other serving to have on-hand for an extra freezer meal.
I have LOVED having additional freezer meal options on-hand! Even though they do require some advance planning (in order to take them from the freezer to thaw out), I can typically look at my schedule and estimate what days they would work best. It's been so convenient that I really hope to maintain this new "tradition." I hope to plan at least one meal per week that I can double (eating half of it and freezing the other half), but I also plan to stock up on freezer meals at times when I'm home more (e.g., over the winter break will be a great time to stock up!)
Do you cook freezer meals? If so, link to recipes you like to use! I'd love to compile a list of options!