Just a few more days until Christmas! Are you done with your holiday shopping? If not, I've got an easy, ultra-frugal last-minute gift idea that's perfect for Grandparents or out-of-state family members. Check it out…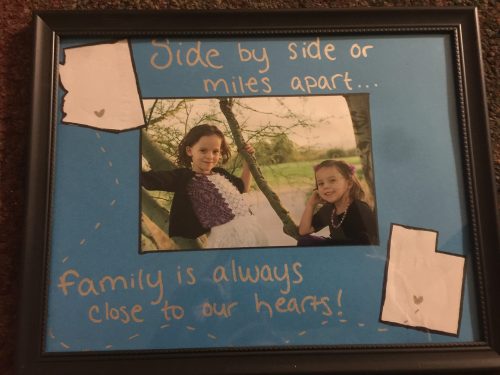 I got the idea from an item I saw on Etsy. I loved the basic idea, but didn't love the price tag ($25/each). I figured I could make my own for a fraction of the cost and guess what – I did!
Supplies:
colored card stock (on hand)
State shapes (free images found online and printed at home)
Sharpie (on hand)
silver paint marker ($5 at Michaels, purchased with a 50% off coupon)
photo (33 cents from Walgreens, purchased with a 20% off coupon)
frame ($1 document frame from Dollar Tree)
I made 5 pictures for all our grandparents, making the total cost under $3 a piece. Doesn't get much cheaper than that!
Do you have any great frugal gift ideas?