by Ashley
Living in Tucson, we have it pretty good during the winter. We get a nice crisp chill in the air and can drive to the mountains to play in snow (yes, there are little mountains in Tucson), but we only have a handful of below-freezing nights and rarely encounter snow in the city.
So I like to playfully tease my friends in the North during winter time – mocking them with pictures of our sunny outside fun.
That being said, I pay for it when the summer months roll around. Here's a snap shot I took of our weather last week: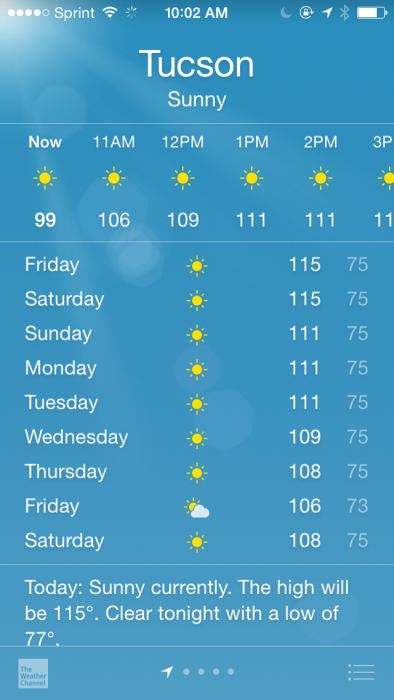 Yeah. That's accurate. Temps ranging from 106-115* daily. No relief in sight. It is H-O-T, y'all! So I'm just going to prepare myself now for the higher electric bill that's bound to be showing up sometime soon. I've got our thermostat set on 78* during the day, but its so hot outside that maintaining a 78* temperature inside means the A/C is literally running all.the.time. No fun for our pocketbook!
Luckily, we have a friend with a pool so we've been doing lots of swimming at her house (we have a community pool, too, but its not nearly as nice and can be kind of crazy during summer). Otherwise, we're cooped up indoors and its driving me nuts! I love summer, but I already can't wait for the temps to drop again. Anything over 100* is really brutal!
How's the weather where you live? What temperature do you set your thermostat at? Any fun summertime plans (bonus points for cheap/free fun!)?