by Ashley
When I first moved to Tucson I hated it. Like, really hated it.
It seemed so….boring!
I was originally from Austin, then lived in southern Florida (where all the cities really merge together), so I was used to the feel of a larger city. I was used to there being LOTS of community events, many that were city-sponsored (and therefore FREE), with tons of family-friendly options that were available.
There was none of that in Tucson. Or so I thought.
To be fair, there really aren't a lot of city-sponsored free events. They do have some (paid admission) festivals, but they're really not that frequent. A few per year is it.
So it felt like a whole new world when I moved out of the central/campus area and out to the 'burbs. Now there are ALL KINDS of family-friendly and FREE events! Some of these events are sponsored by the town where I now live (I live outside Tucson city limits in a neighboring town), but some are sponsored by HOAs and are open (and free!) to the public. Why would an HOA host a free event that's open to people outside of the HOA community? I have no idea (false:  its a newer neighborhood and they're trying to sell houses). But I certainly took advantage of the free fun this weekend!
So I packed up the girls and headed to a big free Easter event this past Saturday. And we did it RIGHT this year! Last year we went right in time for the easter egg hunt (at 11:00am), then stayed around for the other activities, which inevitably put us in the area when lunchtime rolled around and we ended up buying overpriced food from a food truck for lunch (they always have food trucks at these events). This year, we got there early so we could enjoy all of the free fun BEFORE the easter egg hunt, then we left right after the hunt so we could be home in time for lunch. It was perfect timing because we didn't have any lines for anything since we were early, and we saved money (and calories) by eating at home instead of at a greasy food truck.
Here are some pictures of what we did….
Free ballon animals (the artist wouldn't even accept tips, as he'd been compensated by the HOA).  Got a ladybug and a puppy dog!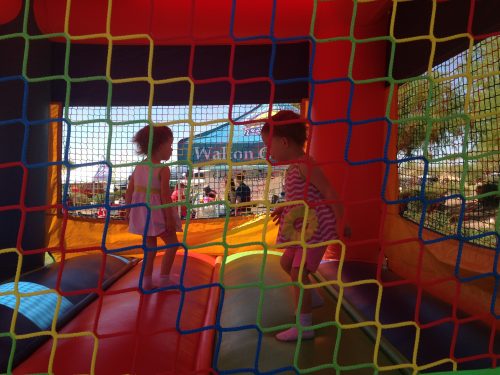 bounce house fun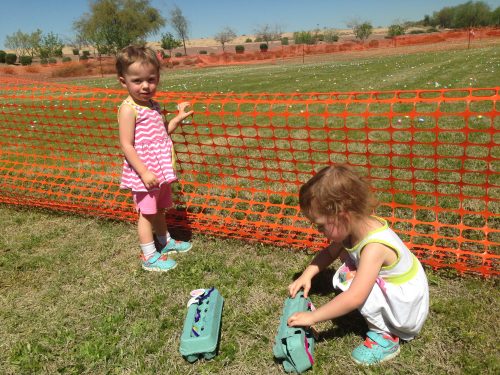 waiting to collect eggs (all children were given an egg carton to decorate for their eggs; they discouraged actual baskets because they wanted to make sure every child got some eggs – once the carton was full, the kids were done).
Other un-pictured events include meeting the Easter bunny, sitting inside a fire truck, and the several other bounce houses (girls ran from one to the next while there were still no lines). We had an absolute blast and received all kinds of goodies for 100% free (plus a killer nap that afternoon for the girls, which was an extra bonus) ; )
Right now (Spring) is PRIME TIME for all kinds of these free events. I encourage everyone to check out their community/city calendars to figure out what kind of free stuff they've got coming up. Maybe you'll find something really cool to do, too!
Does your community host a lot of free events? If you've got a family, what types of (free/cheap) things do you do for fun?
Texan at heart; Arizonan on paper. Lover of running, cheese, camping, and family (fur-family included!). Blogger, motivated to get out of debt YESTERDAY! Follow along with my journey!