by Ashley
I mentioned that money is extra-tight this month, and I've really been making a conscious effort EVERY.SINGLE.DAY not to spend money. It's weird really. You know how once something is "forbidden" it's suddenly all you can think about?
For example, I've been pining over the idea of doing a little garden. I have the blackest thumb known to man, but I like to try to plant flowers from hanging baskets in the back yard and see how long they'll live (my record is about 2 years, but most only last a matter of months). I also used to have a pretty good herb garden and I'd love to get that going again, as I've been missing fresh rosemary and basil in our meals. Sorry to those of you in freezing weather, but we're probably past our last freeze here in Tucson so it's the PEFECT weather for planting stuff! But that all costs money – soil, seeds (and/or starter plants), maybe some new pots, etc. Sigh. That stuff's all been put on the back burner for the time being (maybe next month when things aren't so tight I can squeeze an extra $20 from our budget for gardening stuff).
But that's not all. It's probably no surprise that the area where my shopping urge has manifested itself the most is with food. Oh, food. But unlike last time (in January), where I justified extra grocery shopping trips as a necessity, this month I'm really, really trying to be good. No extra trips to the store. Use up everything at home first. Figure out creative ways to make meals with things we already have. Eat stuff out of the freezer. You get the point.
And I have to say that so far I've been proud of myself. Here's a look at some of the cheap meals I've made lately to try to stretch our grocery bucks to the limit.
Side note: I am NOT a chef, nor am I even a very good cook. So I'm not giving recipes here, I'm just giving ideas of cheap foods I've made. If you want a recipe, do yourself a favor and google one because I have no advice to offer on the cooking front. : )
Black Bean Burgers
Okay…..this meal came THISCLOSE to being just tossed in the trash. I was all proud of myself to use all ingredients we had on hand, many of which were begging to be used up (e.g., leftover beans and cilantro from a previous taco dinner). But when I read the directions I missed the part where it said to put everything in the food processor except the beans!!! Instead, I food processed everything to a pulp, then wanted to cry as I thought there was no way the burgers would hold together. I seriously stood there with the glop mess next to the trash for a good 30 seconds contemplating my options when I finally decided just to try the bean mess. The original recipe called for cooking it in a little bit of oil in a skillet. I immediately nixed the idea (0% chance the burgers would hold together), and instead opted to bake them in the oven. God must have smiled down on me because, lo and behold, the burgers held together! They didn't look pretty, but they tasted just as good as if I hadn't pulverized the beans into a nasty-black colored pulp.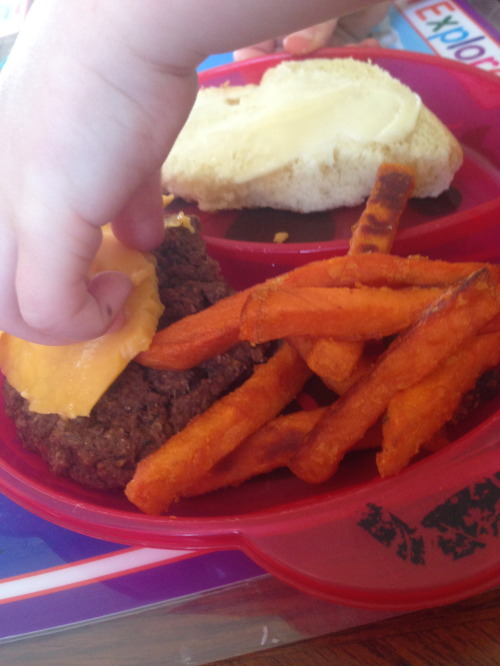 Uh oh, caught a little hand trying to still the cheese!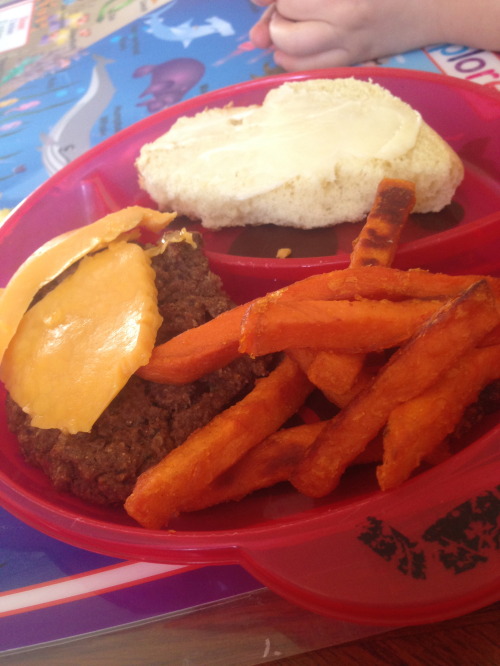 Much better! Well…still not the most appetizing-looking, but you get the point. And it tasted great!
Pantry Foods
I haven't always been this way, but in recent years I've tried to make more of an effort to eat FRESH and NATURAL foods.  So although it is not the norm for us to essentially eat-out-of-a-can, I do still have many canned foods in the pantry. And – what can I say – they're cheap. I've found myself resorting to a meal-in-a-can a couple of times this month so far, particularly for quick lunches. The two main things we've had so far are canned soups (seriously, these needed to be eaten because they've been hanging around forever, but I know the sodium content & ingredient list is awful and I never buy them anymore) and tuna fish sandwiches (something about canned meat creeps me out). No disrespect intended to those who love these foods. I think our knowledge about food nutrition has come a long way and these are totally normal foods that I ate all the time as a kid, but not something I want to be feeding my own family on a regular basis. But I also hate waste and these are foods we already owned, so might as well eat them up. Highly unlikely that I'll be replacing any of these canned meals, so it almost feels like a free lunch.
Vegetarian Meals
One of the best ways to stretch a buck is to make vegetarian meals since veggies often cost way less than meat. This can be tricky for us carnivores, though, because it often doesn't feel as filling or you might get full initially but then be hungry again an hour later. But I make a couple of vegetarian meals that are particularly hearty. One is eggplant parmesan. It's a bit prep intensive, but I always double the recipe and freeze half for a quick meal sometime down the road. Plus the eggplant is thick and hearty – I'd even call it "meaty." Plus super tasty. I also like to cook up some  frozen cheese tortellini as a super quick veggie meal. In my local stores I can get a bag of cheese tortellini for $2.50 and its enough to feed my family of 4. I boil the noodles, add some marinara sauce, and stir in spinach over the heat so it wilts before serving. This is another great idea for a quick lunch, but it can be dressed up for dinner with a side, too (steamed broccoli pairs well).
"Steak" Quesadillas
We'd had a pot roast a few nights prior that was huge. I'd eaten leftover roast for a few days and was sick of it, but didn't want to waste any of the leftovers. So on this particular day, I sliced up the roast, sprinkled it with some taco seasoning (pro tip:  I buy the bulk jar of taco seasoning from Costco instead of individual packets from the grocery store. It's much cheaper per oz. and then you can just use what you need instead of being committed to a full packet), and called it steak fajita meat. LOL. Obviously I could tell that it wasn't the real thing, but I got no complaints from the girls and even hubs was tricked into thinking I was serving a new meat (he's not a huge fan of leftovers). Mwhahaha!!!!!!!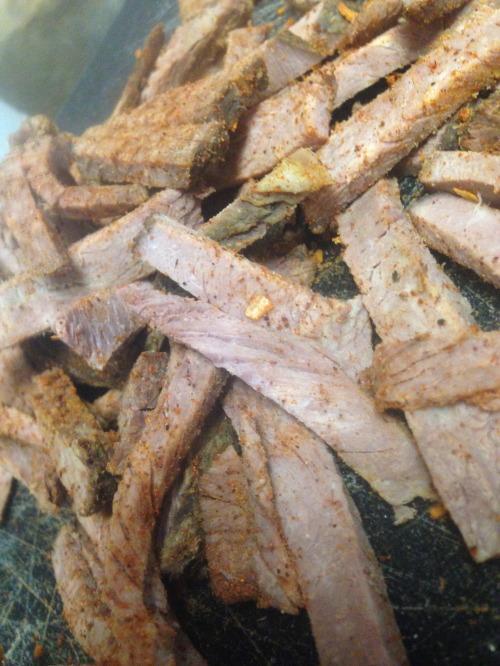 Here's the roast meat all sliced up and sprinkled with taco seasoning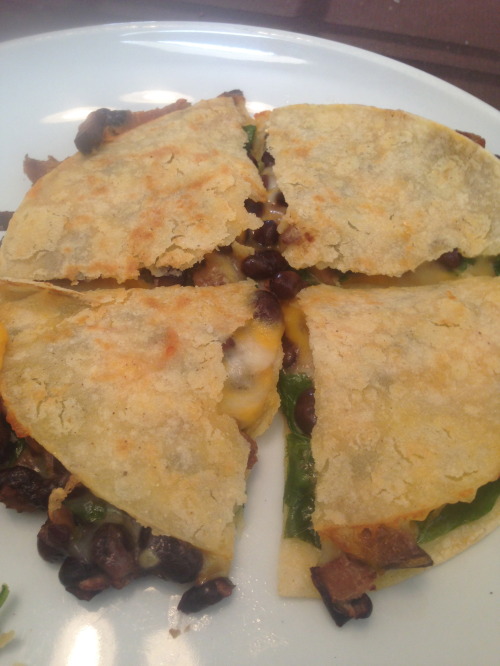 Cooked in a tortilla with some cheese, beans, onion, and bell peppers (another pro tip: I buy bell peppers when they're super cheap in summer, then slice them up and freeze them so it's easy to take out just a few and cook as needed). I add spinach or lettuce after its been cooked for a little boost of greens.
Chicken Everything
Okay, no pictures to share of this, but can I just say how many different chicken meals I've cooked lately? First, chicken is one of the cheapest meats around. Second, it's just so easy to spice up in so many different ways! From regular grilled chicken to bbq chicken, chicken on a salad or in a wrap, chicken smothered in honey mustard and cheese, chicken stir-fried and served with noodles and peanut sauce, chicken dunked in wing sauce and served with ranch, etc. etc. etc. Lots and Lots of chicken dishes. It's getting comical. Hubs asked the other day, "What are we having for dinner? Let me guess, chicken!" Yuuuup! Though you're welcome to cook if you want something different ; )
So there you have it. These are some of our cheap, quick, and easy meals that I've been relying on lately. And anytime I can cook once and eat twice (or three or four times!!!) is always a good thing to me, so I've been loving trying to find ways to rollover and repurpose already cooked foods into a new meal. Good stuff!
What cheap meals are you loving lately? Feel free to link to any recipes you use!