by Matt
Hey everybody!
I'm back from my visit with my sister and my nephew. I couldn't be more stoked that I went. An amazing trip. I got to Orlando on Wednesday night/ Thursday morning at 12:30AM (just barely, though. I made my connecting flight by the skin of my teeth. 2 minutes later and they would have taken off without me.) Since my sis and her fiance are both Cast Members at Walt Disney World, we spent all of Thursday at Magic Kingdom with the baby. Friday was spent hanging out with my sister and other family that was visiting, while her fiance worked. Saturday was spent at Epcot and Animal Kingdom and I left very early Sunday morning.
Here's a picture of me and baby on my favorite ride, Living with the Land, in Epcot: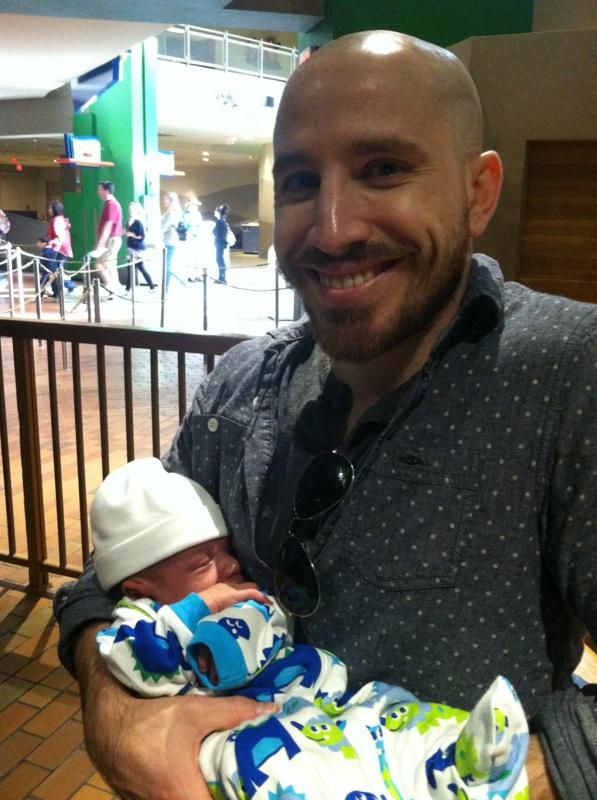 He was so amazing and seemed to love the rides we took him on (if sleeping on them means loving them, lol). The only ride he didn't like was Haunted Mansion, which he just screamed and screamed and screamed on.
OK, so for the financial aspect of my journey, I had budgeted $200.00 (above the $70 I normally carry in cash) for the trip, but it ended up tallying $280.00, give or take. I took it all in cash and had too much change left over to count, I just threw it all in my change jar. I would have been pretty close if I had accounted for the $25 in baggage fees each way for my checked bag. Oh well, I'll know better next time. The remaining $230.00 was spent mainly on food. I bought dinner on Wednesday (McDonald's) when I arrived, snacks throughout Magic Kingdom on Thursday, dinner at Sweet Tomatoes Thursday night, dinner at Downtown Disney on Friday night and snacks throughout the day on Saturday. Given the fact we ate so much in Disney, the damage could have been much worse, but my sis gets a pretty nice Cast Member discount that could be used at each stop.
So, here's what my budget looks like for February:
I have yet to return the juicer (ugh), but I've vowed to do that sometime this week, hopefully as early as tonight. But thankfully, even though I spent a majority of week in Florida, I was still able to pay $497.85 on my student loans, which brings the tallies to:
| Loan Name | Interest Rate | Original Balance- May '09 | Current Balance | Total Paid Off |
| --- | --- | --- | --- | --- |
| Sallie Mae 01 | 5.25 | $27,837.24 | $24,462.48 | $3,374.76 |
| Sallie Mae 02 | 4.75 | $22,197.02 | $19,189.15 | $3,007.87 |
| Sallie Mae 03 | 7.75 | $20,692.10 | $655.99 | $20,036.11 |
| Sallie Mae 04 | 5.75 | $10,350.18 | $7,723.61 | $2,226.57 |
| Sallie Mae 05 | 5.25 | $6,096.03 | $5,356.99 | $739.04 |
| Sallie Mae 06 & 07 | 4.75 | $6,415.09 | $0.00 | $6,415.09 |
| Sallie Mae- DOE 01 | 5.25 | $5,000.00 | $0.00 | $5,000.00 |
| Sallie Mae- DOE 02 | 5.25 | $3,000.00 | $0.00 | $3,000.00 |
| AES | 6.8 | $9,000.00 | $0.00 | $9,000.00 |
| TOTALS | | $110,587.66 | $57,338.22 | $53,249.44 |
My current slush fund balance didn't change from the previous post:
Slush Fund= $2,577.57
For the following week, with V-day (Saturday) and my birthday (Sunday) coming up we have some plans for the weekend, but nothing that will cost a significant amount. I have some money budgeted and a pretty good plan for my V-day gift, but I can't reveal how much and what I'm buying until next week (my GF reads this too, lol). How is everyone else going to spend their Valentine's Day? Do you treat it like a holiday to celebrate your spouse, or do you see it as a "Hallmark Holiday"? Let me know in the comments! I know couples that do both. Some see it as a nice day to enjoy time together, and others just see it as another day.