by Matt
I hope everyone is having a great Tuesday!
I want to share with everyone the things I dwell on, but can't buy/do due to being in debt and on a tight budget. I have a feeling I'm not the only one with this sort of list out there.
1) Home Improvements. I just bought a house back in 2013. While the house is in pretty good shape and the previous owners did a lot of nice upgrades, the house itself is still 100 years old. It would be nice to make it our own, so to speak. We've repainted some rooms, but haven't changed anything up to the extent I would like. Whenever we clean up the house, I imagine the things we could do- move a wall here, upgrade the flooring in here, add shelves here, but I'm afraid that as long as I have student loans to pay, all these are going on the back burner for now.
2) New clothes. I haven't bought clothes for myself in at least a year, which I bought a couple pairs of paints, shirts and shoes for work. Besides this one time, I haven't bought clothes in at least 2 years, if not longer. The old saying "is dress for the job you want, not the one you have" and I certainly do wish I could live by this saying. The clothes I have work ok in our business casual office, but I know if I could do better if I have the funds to do so.
3) Trips. I'm not talking about trips to Europe or cruises or vacations to Disneyland or anything like that, but weekend trips to visit friends and family scattered around the county. One of my best friends lives in North Carolina and I haven't visited him now in a couple years. Another good friend of mine lives in Ohio and just had a child. I would love to visit him more often than I do. And of course my immediate family lives in Buffalo, so thankfully I'm able to visit them once a month or so, except for my sis who lives in Orlando.
4) Girlfriend. My GF asked me what I was going to write about today and I told her I was going to post my wish list of things I wish I could buy/do but can't. This of course lead to her asking me what's on my list, so I gave her this run down and finished with being able to get you better gifts and surprising you every so often with things that you love. Being the amazing, down to Earth girl she is, she told me the gifts I give her and the time we spend together is all she needs. This didn't stop my guilt. I still wish I could surprise her with flowers or cups of tea from Tim Hortons or grapes tomatoes- just little things that add up, especially considering I'm only on a $70 a week budget for groceries and gas.
Here we are on one of our budget friendly drives to a very cute ski resort in our area, where we took a hike on the golf course: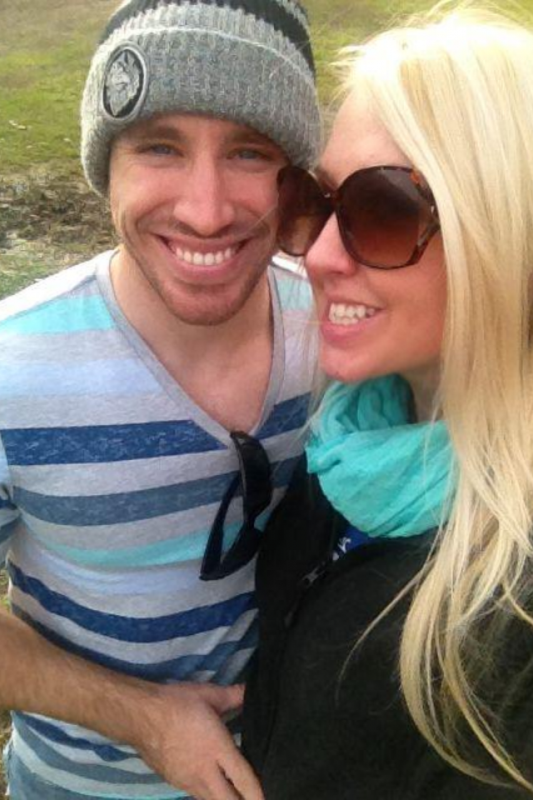 I thought this would be the perfect post to transition into next week's post- my future (AKA post-debt) plans, because I would love to add budget lines for all these items eventually.
And speaking of future plans- shout out to Angie, Rachel and Joe for their input  on last week's post in pointing me in the right direction retirement wise. I spoke with our company's human resource manager and our next available dates to get back into the company 401K is May 1st and August 1st. I'm still hesitant to get back in on May 1st since I'm on a debt payoff roll, but I'll definitely be back in come August.
Lastly, here's my debt totals as of last Thursday:
| Loan Name | Interest Rate | Original Balance- May '09 | Current Balance | Total Paid Off |
| --- | --- | --- | --- | --- |
| Sallie Mae 01 | 5.25 | $27,837.24 | $24,357.79 | $3,479.45 |
| Sallie Mae 02 | 4.75 | $22,197.02 | $19,107.77 | $3,089.25 |
| Sallie Mae 03 | 7.75 | $20,692.10 | $0.00 | $20,692.10 |
| Sallie Mae 04 | 5.75 | $10,350.18 | $7,652.04 | $2,698.14 |
| Sallie Mae 05 | 5.25 | $6,096.03 | $4,661.94 | $1,434.09 |
| Sallie Mae 06 and 07 | 4.75 | $6,415.09 | $0.00 | $6,415.09 |
| Sallie Mae- DOE 01 | 5.25 | $5,000.00 | $0.00 | $5,000.00 |
| Sallie Mae- DOE 02 | 5.25 | $3,000.00 | $0.00 | $3,000.00 |
| AES | 6.8 | $9,000.00 | $0.00 | $9,000.00 |
| TOTALS | | $110,587.66 | $55,779.54 | $54,808.12 |
I won't bore anyone with my budget this week- I'll save that snooze fest for next week's post. Have a great week!