by Ashley
It's happening…
I decided to focus on the car in our current debt repayment strategy. That means it is going to be the recipient of our monthly snowball (fyi, the snowball was $1055, but that's added on top of the existing car payment of $411, making the minimum monthly car payment = $1466, which I've just rounded up to $1500). We will also pay additional monies toward the car if we end up having money leftover at the end of each month. Since we're now living on last month's income and pre-budgeting our entire month, I don't anticipate that we'll have large surpluses at the end of the month. However, I do try to err on the side of caution when planning the budget (particularly in reference to utilities or other variable expenses) so I do hope to have at least a couple hundred leftover at the month's end.
Aaaaaaanyway….
I decided to make another one of THESE bad boys to help with the motivation.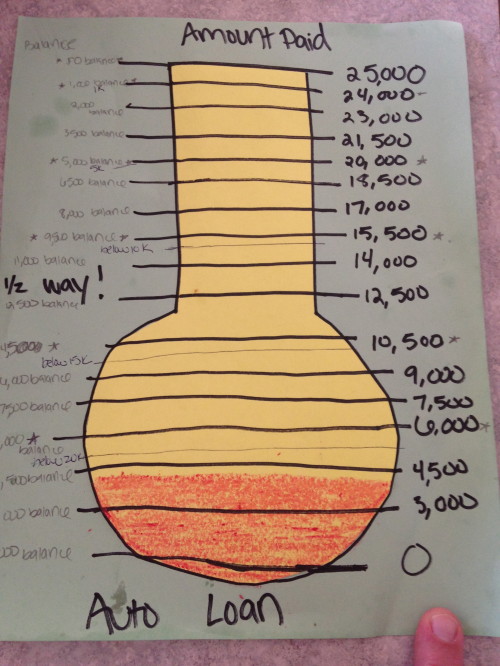 I apologize for the unsightly food splatter. The thermometer lives in our kitchen and it appears it has been splattered once or twice with food or water. Ick!
I had made this thermometer back when I made the one for my Wells Fargo credit card, but its been growing so, so slowly. Now that we'll be making larger payments I can't wait to watch the red grow! We do have a good amount of debt to cover, but if we really buckle down I'm sure we'll get there in no time. After all, when I started my Wells Fargo thermometer we still owed $7,000 on it and we managed to pay it off in just two months!
Can't wait to pay off the car ASAP!!!
Is there one debt you CAN'T WAIT (or couldn't wait) to pay off? My first big one was the Wells Fargo card. The car is definitely the next in my line of fire!