We had a great time this weekend spending time with friends and celebrating our girls' second birthday! Spoiler alert: the party definitely made us go over on our grocery budget this month. We tried to go cheap, but it still cost more than our normal weekly grocery budget would allow.
I'm going to give you the financial run-down of the party (all costs, etc.), but first let me show you our cake.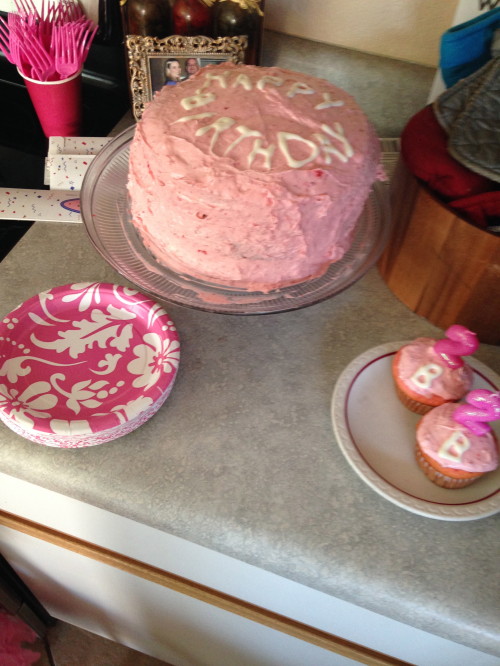 Homemade strawberry cake with strawberry cream cheese icing. That was as good as it gets with my level of (in)experience. Funny story real quick…..I made the cake in three layers. I let them cool properly, but tried to assemble all at once (instead of one layer, then refrigerate to harden icing and "set", then next layer, etc.). Once the icing was all on and the layers were assembled, I could immediately see there was going to be a problem. The cake was…leaning. A lot. Then one side completely blew out.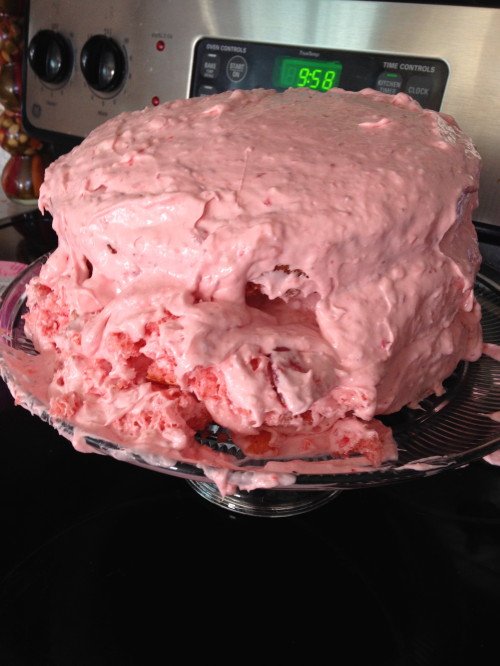 I put it in the fridge to "harden up" the icing. After a couple hours, I kind of shoved the side of the cake back in and iced over the side so you couldn't see the total disaster. I tried my hand at some lettering which also didn't go great. But it was a fun process and made some funny memories to look back on.
Still tasted good…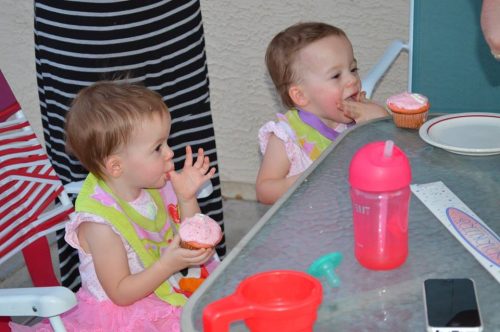 So without further adieu, here are the numbers of how much the party cost:
Decorations:
Crepe paper = $1
Balloons = $5
Total Cost = $6
Paperware:
Cups = $1
Plates = $2
Cutlery = .50
Napkins = $1
Total Cost = $4.50
Food:
Chicken Sausages = $12 (8 links, bought from meat counter at Sprouts, $3.50/lb.)
Turkey hot dogs = $2.50 (8 links, 1 pkg @ 2.50/pkg.)
All beef hot dogs = $5.00 (16 links, 2 pkgs @ 2.50/pkg.)
Bacon = $7.00 (bought from meat counter at Sprouts, $5.50/lb)
Total Meat Cost = $26.50
Jalapenos, tomatoes, cilantro, onion = $7
Mustard, Mayo = $3
Guacamole = $10
Cheese = $5
Total Toppings/Condiments Cost = $25
Chips and Salsa = $5
Pinto Beans = $5
Fruit (mangoes, pineapple, banana, blueberries, watermelon) = $15
Total Sides Cost = $25
Pantry items used for making and icing a cake + candles from store = $5
Tea = $1
Beer = $12
Hot dog buns = 9
Total "other" item costs = $27
TOTAL FOOD COSTS = $103.50
TOTAL PARTY COST = $114
Of course, some of these things we already had on hand (some of the fruit, tea bags for iced tea, some of the condiments), but I tried to estimate as best I could the total cost, even if I didn't purchase the item this week. I like to err on the side of caution, so I would probably add a couple extra bucks and say the full cost of the party was probably about $120ish.
We never really made a budget for the party so I don't know what I expected. On one hand, I feel like a hundred twenty bucks for a birthday party isn't terrible. On the other hand, I look at the cost of food items and think I went overboard again. We had a LOT of extra food and I surely could have saved money by buying cheaper stuff (e.g., pre-packaged chicken sausages and bacon instead of the fresh butcher-counter stuff). For a "hot dog" party, it was pretty pricey (though, to be fair, I won't eat the cheap Oscar Meyer hot dogs so I splurged with the more expensive, all beef and nitrate-free franks).
At least the food isn't wasted – we can eat it this week to save on groceries. This will be necessary because the party put us over on our grocery budget for the month (we're already out of money with over a week to go!), so I have to institute a no-spend week for the remainder of the month.
Financially speaking, it could have gone better but it also could have been worse. The total cost though (let's say $120ish) made me think….should I have this as part of my monthly savings? Putting aside $10/month would hardly impact our budget, but it would certainly help save the budget for the one month a year with the girls' birthday.
What do you do to budget for children's birthdays? Do you save a little money monthly?
Do you have a set limit on what you spend on children's birthdays? If so, what is it?