by Beks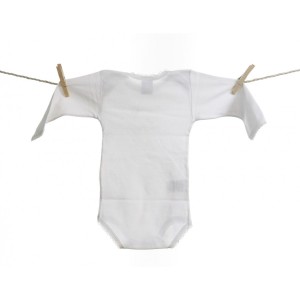 My sister and sister-in-law have been AWESOME at supplying clothing for baby Cash. My sister shopped garage sales in Kansas and brought two suitcases full of clothing. My sister-in-law has been passing over the clothing from her little boy as he outgrows it. I have purchased precisely ONE top since his birth and it wasn't out of necessity, it was simply a cute top that said 'Take Me To My Mummy' for Halloween.
The recent cold spell illuminated the holes on our kidlet's wardrobe. The poor little dude, while loaded with adorable t-shirts, pants, and jackets, has no long sleeved shirts. We were ill prepared for our weekend at the coast and needed to grab some long sleeve onesies for the trip. I asked hubby to 'run by Target for some cheap clothes' thinking surely, it wouldn't cost more than $20 for a dozen or so warm tops.
Clearly, I have never purchased kids clothing before. Eek.
$60 later, he had the long sleeved tops he needed, and our clothing budget was robbed for the year.
Needless to say, I plan on hitting up some garage sales in the future and being very, VERY nice to my sister and sister-in-law while begging for hand-me-downs.