by Beks
I've decided to do a once monthly bump update. If you aren't interested, sorry. Skip this and resume reading tomorrow. ; )
February 2, 2011:
I express grave concern to my husband because, at 16 weeks, my stomach is flat. "Do you think the baby stopped growing?!? Do you think something is wrong?!?! Oh my gosh! Something is wrong isn't it?!?!"
February 3, 2011:
At the doctor's appointment, the doctor says, "Hmm. The baby is a little larger than I expected."
On the way home, I wail, "I'm going to have a jumbo baby!! Oh dear Lord. What did I do wrong?! Why do I have a behemoth fetus!?!?!? Shrink! Shrink!"
At a red light, my husband hits his head on the steering wheel repeatedly.
February 10, 2011:
Some people are finding out about the baby at work. Most are shocked and make expected remarks like, "I can't even tell you're pregnant!" and "You are simply glowing!" A guy from finance says, "Weird, I was thinking about asking you if you were pregnant last week. Your hips look wider."
HR spends 15 minutes lecturing me about the appropriateness of comparing a fellow employee to a 'donkey's hind quarters'.
February 11, 2011:
My husband posts a status update on his Facebook that says, 'Got to feel my baby move for the first time last night! Man this is awesome.'
Meanwhile… I felt nothing. Since when is it normal for the HUSBAND to feel the kid move first? Welcome to my life.
February 18, 2011:
My brother's friends come over for 'guy's night'. They start talking about the baby and one of them says, "This is SOOO cool!" Feeling warmed by the tender moment, I smile… until he finishes, "We have a designated driver for the next 5 months!!"
February 24, 2011:
I discover that my love for the E-mealz menu planning service is fading. Not because E-mealz has done anything wrong, but because E-mealz doesn't plan meals solely containing pineapple juice and carrot sticks dipped in ranch dressing.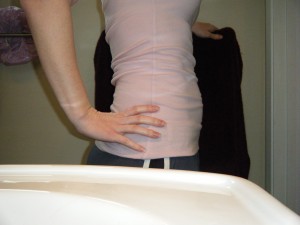 20 Weeks