by Beks
We have a linen closet at the end of our hallway. I tried to keep it organized but every time I reached for something, I knocked a bottle of shampoo over or hit a bottle of hairspray. After a while, I just threw things in and slammed the door before something fell out.
Um, this is what it looked like. Please don't tell my mother.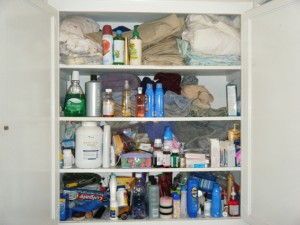 I didn't realize this disorganization was costing me money until I decided to spend $20 on little clear boxes from Walmart and organize the closet over the three day weekend.
I found, among many other things, two thermometers (last time I checked, I only need one), 6 boxes of daytime cold medicine (4 expired), 4 boxes of Benadryl (3 expired), 3 bottles of pain reliever (1 expired).
My disorganization has made many pharmaceutical companies very happy. Last time I checked, I need the money far more than they do.
No more. Here's the closet now.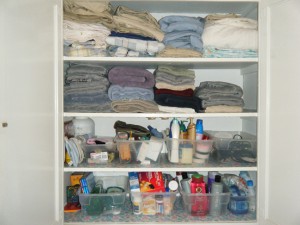 Please make me feel better. Misery loves company. Tell me you have a messy, wasteful closet too.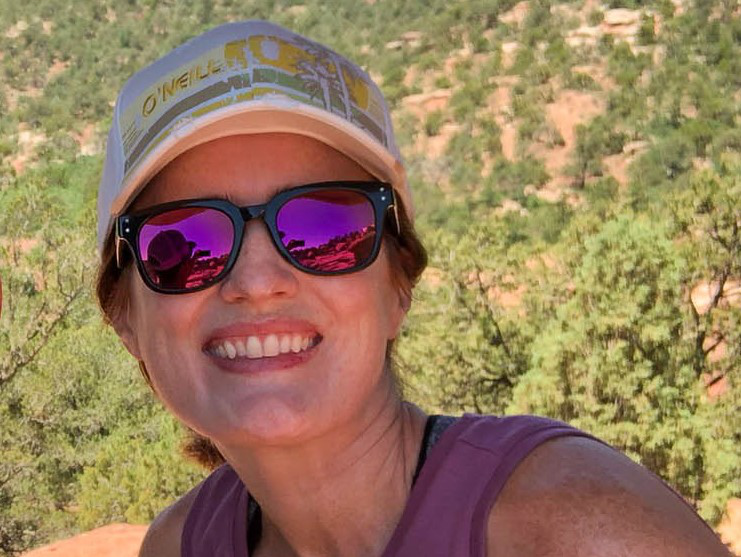 Beks is a full-time government employee who enjoys blogging late into the night after her four kids have gone to sleep.  She's been married to Chris, her college sweetheart, for 15 years.  In 2017, after 3 long years working the Dave Ramsey Baby Steps, they paid off more than $70K and became debt free.  When she's not working or blogging, she's exploring the great outdoors.