by Tricia
Without further ado, here's how things panned out for May (please see this post for a FAQ).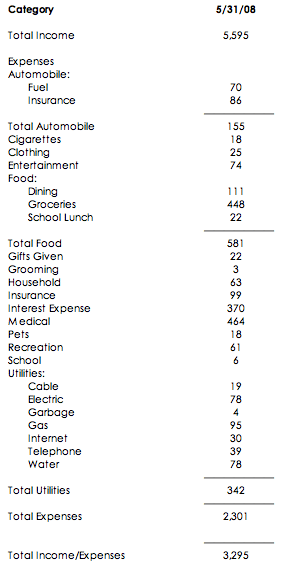 Income for May was awesome. Our economic stimulus payment is in there and it gave us a welcome boost in income. Unfortunately, we didn't use it like the government wanted us to use it. It went towards our debt 🙂
For clothing in May, I went on a little shopping spree. I hit Walmart (by myself) and bought some new T-shirts for summer. I don't have many T-shirts and the ones I did have were pretty old. It was time to retire them. I scoured the clearance racks and found five shirts at $3/each. I also picked up a new pair of shoes for our son for less than $10 on clearance.
Entertainment was high in May. We splurged again and purchased another video game. We are done with purchasing new video games for quite a while.
Food is way too high! Gosh it all adds up. We did have to replenish some things once our fridge was back up and running. But the spending is still too high here. Now that we have to purchase healthier foods, it will be interesting to see how our spending is affected. The more I think about it, buying healthier foods may not be as expensive as I once thought. It all depends on how you do it. More on that later, as I figure it out 😉
Household spending for May was quite a bit less than April's spending. Here's how it breaks down: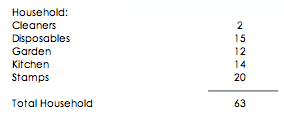 We spent some money to get our garden ready for the summer. It's time to start planting and I'm debating on whether we should get some plants that are already started or plant directly from seed. It's tough where we live because we do have a short growing season. My dream is to have an indoor greenhouse in our future house.
Recreation included our spending for fishing this year. I don't anticipate any more spending for fishing this season unless we keep losing bobbers at record speed. During our last fishing trip, we lost three of them. Thank goodness bobbers are fairly inexpensive (around $2 for a package of them).
May's gas bill almost made me faint. Ok, maybe I'm exaggerating a little bit. But it did surprise me. I knew we had a cold spring, but I didn't think it was that bad. Thank goodness the weather has warmed up for June.
Overall, May wasn't too bad. Like April, there is room for improvement. We have been somewhat consistent, though. If you look at April, our total expenses were $1,900. For May, they were $2,301. The big difference was our health insurance paid in May ($400).
We'll see how June pans out. So far, our spending has been fairly low (not including the health spending due to problems with our health insurance). Income has been lower too. I feel like we should be contributing to our savings account but we haven't been able to yet. Hopefully we can soon. After this past weekend, I could use a little "boost."