by Tricia
After an absence, I have decided to bring back our monthly spending reports. I am still trying to find our January – March receipts so I can post those reports. I've checked every known "receipt stash" in our house and they are no where to be found. I probably put them somewhere safe, but forgot where I put them.
Anyways, here's how much we made and here's where it went. Before you go too much further, you may want to check out a little FAQ that I did about these reports since I switched things up a bit.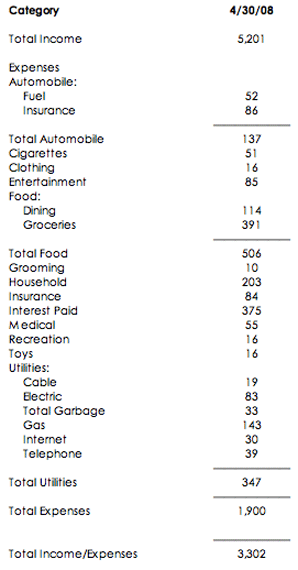 First things first. It was an awesome income month for April (note – this is net income). I received a new advertiser on here and my husband sold a $900 piece of equipment. I also worked some overtime. That's why we were able to pay off $2,300 of our credit card debt last month.
Now onto the spending…
Our automobile costs are pretty steady. During the summer I expect our gas spending go to up since we will be going out more for drives and such. Our insurance cost should go down because I plan on removing the full insurance coverage from our car sometime soon.
Cigarettes. There isn't much I can say here except that it is higher than normal this month (which seems to be the case when I work overtime). But the spending should be zero!
Entertainment was high for April. It includes a trip to a gaming place with my son as well as the purchase of a video game and a few DVD rentals. I did splurge here.
April was a horrible month for groceries. When our fridge broke, we ended up using the freezer filled with ice and then a cooler for things that needed to be kept cold. You can only fit so much in there. We ended up making way too many trips to the grocery store. We also spent a bit with going out to eat.
There was a bit of spending in our household category. Here's the breakdown: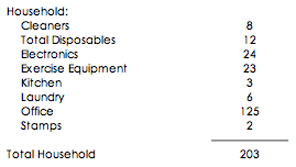 I bought a little cycler for using under my desk while working. I have been having horrible knee problems from sitting most of the day and I thought it might help. My desk doesn't have enough clearance to use it which is a bummer. I sometimes use it while watching TV.
Our office spending included a new chair for my husband's desk. After a few Walmart cheap versions that broke, I finally talked my husband into getting a new chair (he was using a broken chair for a few months). We headed out to Office Max and bought a nice chair on clearance. Don't buy office chairs from Walmart.
The interest paid category includes the interest for our non-credit card debt (mortgage and student loans). I don't like that number, but there isn't much we can do about it at this point. I've tried refinancing our home mortgage through our current mortgage holder but my request was denied.
Our internet bill recently went up. It was at $25/month but AT&T decided to raise it. I have to have high speed and that's the lowest price available. The same thing goes for telephone. I have to have a certain plan for work so I have to live with the price. On a personal level, we rarely ever use the phone. I checked, and we made less than 10 local calls. Long distance is a different story since our families live far away. I'm a chatty Cathy when I get on the phone with my mom. If we ever don't need our current plan, I will definitely check out something like Skype.
I am looking forward to summer utilities. That gas bill will go way down and so will our electric. We have also been talking about canceling cable, but I'm not sure if I can do that yet. Without cable, we do not get any channels. I would miss the local news and the major networks.
Overall, April was an awesome month. There is definitely some fat that can be cut so it's a good thing I'm back to posting these. It forces me to take a look. For a while there, as long as we were paying extra toward debt, we were doing fine. The numbers don't lie. We need to slash some of our spending.