by Tricia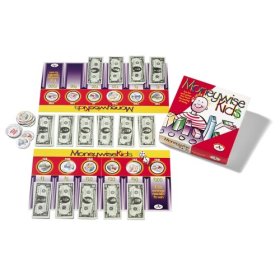 For Christmas last year, I wanted to get my son something that would help teach him about money. There are a few products out there, but one caught my eye. It had some great reviews on Amazon.com and for $12, I decided to purchase it.
Moneywise Kids (aff. link) is a game geared for children age seven and older. My son is six, but he's catching on quickly and he gets excited when we play the game.
There are two games you can play:
Moneywise Bill Maker – With each roll of the dice you earn money and the goal is to reach $100. The learning portion here is that your child will learn how to count money and will learn how to cash in smaller bills for larger bills. You should see my son's face when he finally can cash in two fifties for a hundred dollar bill!
Moneywise Bill Breaker – With this game, each player starts out with a $100 bill. They continue to roll the dice to earn money like in the Moneywise Bill Maker game. With each roll, you select a marker and decide whether to buy it or to put it back to buy it later. Markers include life events like buying food, housing and even medical care. Each time a marker is purchased, the player must work to make change. The first player to reach $100 and buy all of the six markers is the winner.
My son is learning how to exchange bills thanks to the Moneywise Bill Maker game. He is still getting the hang of the Moneywise Bill Breaker game. It was interesting the first time we played it because he spent all of his money to buy markers right away. This game gives us an opportunity to discuss saving some money first before spending money. It's a good to save up some money in case you pick one of the "bad luck" markers that come up where you have to pay money and don't get one of the six markers you need to win. It's a great learning tool to plant the seeds of saving and budgeting with your children.
Regarding the actual game itself, for the low price I was surprised at the quality of the game. The two game boards that are provided are heavy duty cardboard. The money is very realistic looking and nothing like Monopoly money. The play money mirrors real money (although smaller size and darker green) and is printed on the front and back. The markers are also thick cardboard circles and can withstand some kid abuse. For some reason, kids love to throw circular shaped things around so I was pleased at the thickness of the markers.
Overall, I think Moneywise Kids (aff. link) is a great game to play with your kids to help them learn money management skills. It compliments my son's money savvy piggy bank very nicely.