by Tricia
I've had the report ready for some time now. I just never got around to writing a post and really looking at the numbers and discussing them. Prepare yourself, there was some major spending in June. But we still spent less than we earned.
Ok, here's the report. My comments are below.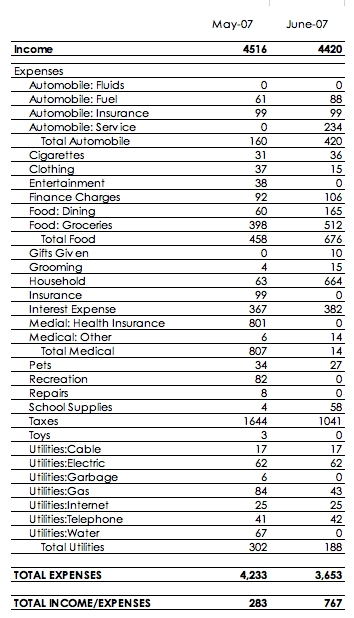 Automobile – We had a one, two punch with car troubles in June. First was the oil filter being clogged. The second was a flat tire, so we bought two new tires. The tires needed to be replaced anyways.
Entertainment and Recreation – Both of these categories were zero. We knew it would be a pretty expensive month so we decided to cut everything out here.
Finance Charges – These are starting to creep up since my balance transfer offers expired. Now that all of our credit card debt is at 9.9%, this will really be going up.
Dining – Very high in June due to my in-laws visiting. We treated them to two meals total. It was the least we could do for them bringing doors to us and helping us to put them in. They saved us so much money over having to hire someone.
Groceries – There was some money that was spent to purchase more groceries for when my in-laws were here. We ate sandwiches quite a few times. But it still doesn't make up for the rest of the spending…it's still too high. I know exactly what is killing us with grocery costs…we are not planning before we go to the store. My excuse is that I lack the time. But, I'm working on changing that as you will see shortly. I am going to become one lean, mean, productive working machine.
Household – I saw that number and my mouth dropped. Then I remembered that it was $500 alone for our new doors. Quite a bit of the rest was for some new trim and some supplies related to the repairs.
Pets – The spending here is still higher than normal due to the increased members of the family (the pregnant stray that had four kittens). So far, we have found a home for one kitten and the momma. So there are three kittens left.
Utilities – These were super low in June compared to May. I enjoy the lower overall utilitiy costs in the summer!
Final Thoughts – Not too bad. We ended up having a surplus of over $700 and I am pleased. I love seeing that. It is helping a lot that my husband has work for his temp jobs. One of them is now over, but the other one looks like he will have work for a while.
Like I mentioned briefly above, I've found myself saying way too often, "If I only had time." I know the time is there…I'm just not very effective at using my time. I had some credit at Amazon.com from an gift certificates I won with Blingo and one that I won through a contest. What I ended up doing was purchasing three personal productivity books to learn some better skills. Of course, I'll review them as I go through them and pass on some interesting tidbits to you.