by Tricia
Last month, I changed how I report January's Income and Expense. A few of you expressed that I should go back to the old way, because it told a lot more information in regards to the interest that we are paying and the finance charges. I agree. The way I tried in January also took me longer to do in Quicken, because it goes against how Quicken does things. So, I decided to go back to what I was doing before.
So, here is January and February. As always, my comments are below.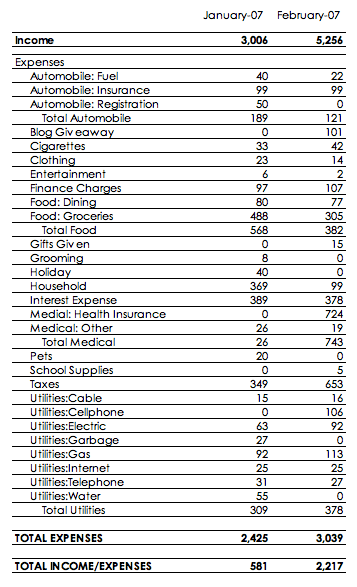 Income: The gross income for February was wonderful. My husband had a three paycheck month due to his last paycheck at his old job and his new paychecks at his new temporary job. I also lent a few hours to help with my husband's temporary job (since it was switching from me to him). Blog income was the highest ever. I obtained three advertisers that paid for 6 months in advance. Normally, advertisement is paid on a monthly basis.
Auto:Fuel: We didn't do too much driving in February. Pretty much when the weather is snowy and cold we stick around our house so we don't use much gas.
Cigarettes: The spending for cigarettes increased. Prices went up some and I had some tobacco go to waste (I roll my own cigarettes). Gosh, I will be glad when the spending here is zero. I am still trying to get ready to quit.
Clothing: We've actually been trying to not buy any clothes for a while unless the deal is significant. My old boots finally gave out so I had to buy a new pair. I did manage to find a pair on clearance. One tip for those trying to make boots last (and are purchasing lower end boots). Do not get boots with zippers! The zippers often break. Try to get some that you have to tie.
Food: February was a great month for groceries. We got the spending for the three of us very close to $300 for the month. While it is probably possible to do better than that for a family of three, I am very happy at that number for us. I am working on a post that details more about our grocery spending. The dining was higher than I would like. We went out a total of 5 times. Again, for us when we are running late or something, we go for the fast food. We will still work to get this expense down.
Gifts Given: I managed to not go overboard with my husband's birthday gift this year. He received an iTunes gift certificate.
Grooming: Grooming is zero for February. You all are probably going to think that we don't groom ourselves. Well, we do. I just stock up like crazy when the price is right. We still are using shampoo/conditioner from years ago. We also cut our own hair and I am low maintenance gal. Plus, many free samples (like razors and shampoo) are usually available 😉
Household: Someone last month thought that I conceal things in household. That is definitely not my intention on my monthly reports. It's just that my household category is extensive and I track MANY things. I asked before if people wanted to see it, and no one seemed interested. Household is where I put everything related to running our home, and from this point forward I will post a report that breaks it down. To see this month's breakdown, please click here
The biggest spending here was for office. A while ago our laptop adapter went kaput and we had to purchase a new one.
Interest Expense: This is the cost of interest for our mortgage and school loans. Not pretty. Once our credit cards are paid off we will definitely be paying off some of our student loans.
Medical: Here's the new big expense. Our health insurance policy that we pay out-of-pocket. I do have the next bill, and it raised to $800 every two month because my husband and I are both 30 now. Yuk. The Medical:Other category is for everything else like over the counter medicines, bandaids and the like.
Taxes: This category takes into consideration all taxes paid from income, as well as sales taxes and property taxes. There's not too much that can be done here. I could always lower my tax withholding, but I am one of those that likes to get a nice refund at the end of the year.
Utlities: No, I didn't go crazy and get a mega cellphone plan LOL. I decided to get a yearly plan for our Tracfone instead of paying every other month for a recharge card. So, the $106 is for the entire year. Breaking it down, it is a savings of approximately $21/year.
Electric isn't the greatest but our Gas wasn't too bad. I can say right now that March is probably going to be the worst month for these two. I am going to be happy once the weather is warmer!
Oh, and I've learned to not use space heaters!
FINAL THOUGHTS
Overall, February was a very strong month for us. In the end, we had a net income of $2,217 and that would be the big reason that we were able to pay down some debt and contribute to our newer savings account.
I can't help but think how quickly we could pay off our debt if our income stayed at around $5,000/month and we continued to keep working on keeping our spending low. I have to really give this some more thought.
As always, any comments/suggestions are appreciated.