by Tricia
I've been listening to your comments about including my total debt payments in my monthly income and expense report and I have figured out a way to do it in Quicken! I tend to take care of my finances just like a business would, but this new way of reporting will probably give you a better idea of the money in – money out for us. Please let me know if you like it.
So here is January's spending. My comments are below.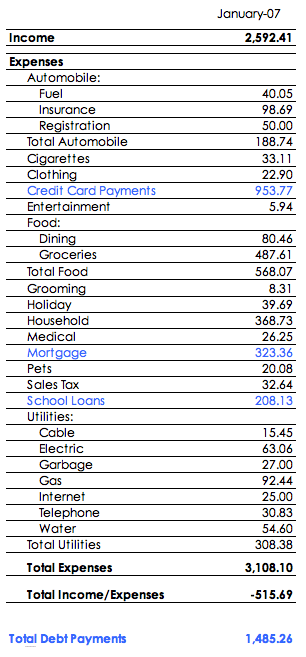 Income: This includes all money coming into our household and includes gifts and prizes won (like gift certificates). The income for January is low because my one paycheck that I would normally receive in January was received in December.
Automobile: We paid for registration in January. My husband is officially in his thirties now and I'm still holding onto my twenties for a little while longer 🙂
Cigarettes: No, I'm still not happy about this expense and my nicotine patches are still staring at me every time I roll a cigarette.
Food: I used to have two separate categories for food. One for dining and one for groceries. I moved things around and created one Food category with two sub-categories. That way I can see total spending.
I'm pleased with the dining spent for January. It's not real low, but lower than it has been. As for the groceries, they are a little high. After my husband lost his job, we went to Walmart and bought over $100 in pantry-ish groceries. Essentially, we were stocking up on things in case money gets really tight in the future. These things are normally not on sale, so Walmart has the best prices.
Holiday: The spending here is from after-Christmas sales. I bought some wrapping paper and we also bought a new Christmas tree for $35 (75% off sale). Our previous artificial tree was purchased at a garage sale for $10 and it was starting to fall apart. We've had it many years, and it was time to retire it.
Household: The timing wasn't too good on our household spending. We found two L-shaped desks with hutches at the local department store on clearance for $112.50/each. We had been watching them for a while and decided to get them. A few days later is when we found out about my husband losing his job. We really needed actual desks, though. My computer desk was an old vanity I purchased at a garage sale for $20. My husband's computer desk was an old armoire that we cut apart and made a desk out of. Since getting my new desk, the back problems I had been having have gone away, so the desks were a good purchase.
Total Income/Expenses
Technically, it's a big ole negative here and we spent more than we earned. But the negative is due to the extra payments sent towards our credit cards. I do, however, want to see a positive here in future months and probably will be able to do so because I will be back to receiving two paychecks/month. We are still working hard to reduce our expenses overall, and I am hoping that shows in February.
And some good news, the temporary job that my husband obtained after losing the job may end up being a little less temporary. They might be able to use him for longer than we thought and it seems like they are really impressed with his work. So, for all of you that said that things happen for a reason…I believe you're right! 🙂