by Tricia
Thanks to finally sitting down yesterday and going through my receipts, I found the ones that I needed so I could finally be ready to post November's income and expense report. My comments are below.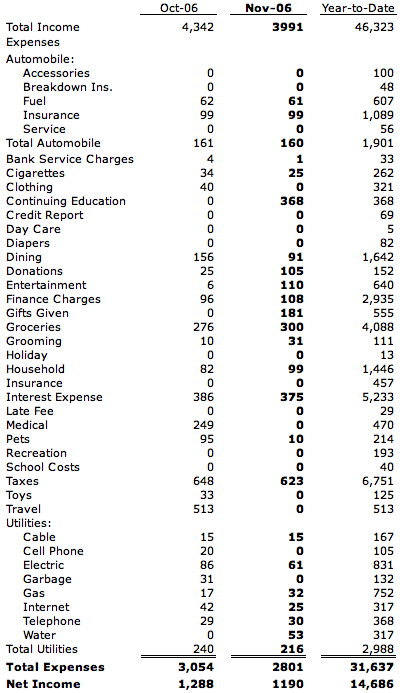 We were still able to spend less than we made. Next month will be different, because not only will there be purchases for Christmas, but also two months of our health insurance, hopefully our home repair (still waiting for the handiman to come out), and something that I purchased for myself for $200. I'll be posting later about that.
You'll notice on the report that I spent a bit last month on continuing education. I bought some books to study and to learn so I can move up within my current position. So, I consider the spending almost like an investment because I will be increasing my earning potential. Now, I just have to find the time and motivation to study!
As for the increase in gift spending, last month my little guy turned 5 so we purchased him birthday gifts. We also started Christmas shopping.
The household category is a little high last month. We broke down and purchased a media cabinet for all of my son's videos and to hold video games. We also bought a slip cover for our older couch.
I'm pretty pleased with how we spent money in November. I thought it was going to be worse than it was, probably because we purchased a media cabinet and I bought books to study. But, we didn't spend as much on dining and our grocery spending is hovering around $300. Things sort of evened out.
It will be interesting to see what December brings, and to look at the entire year. It will also be a time to set up my budget for the new year.