by Tricia
One of the things that I want my son to learn about is saving money. While he was at grandma's house, he was a little spoiled and grandma raided her coin jar and gave my son a pretty big container of coins. The first thing he said when we got home is that he wanted to go to Walmart to buy something. I tried to explain to him that he should some of the money and he didn't seem happy with that idea.
I decided to go online and look at coin banks and I think I found the perfect one for my son, since he loves trains.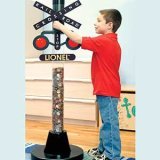 (if you click on the picture it is a referral link to Amazon.com)
When you put money in, the lights go off and you hear train sounds. I know my son would scavange the house for all the money he could find just to put the money in there to hear the sounds.
The cheapest I've found it is $19.99 and while it is a little pricey to me, if it gets him into the saving mood then the little extra money will be worth it. He's had a regular piggy bank before, but it didn't excite him.
The only drawback to the bank that I can think of is the size. It will take a lot of money to even halfway fill the bank. It makes me wonder how much money my son will have when he fills it!
I will discuss this possible gift with my husband tomorrow during our weekly family meeting (more on this new development later) and perhaps I will be placing an order soon for it. I just think my little guy would love it.