by Beks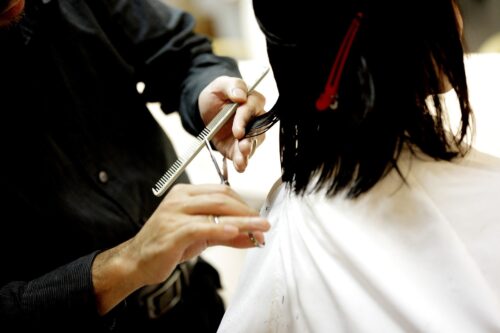 California, like many places across the county, has moved into the Purple Tier.  Frankly, I think the color spectrum could be improved.  How am I supposed to know that Purple is worse than Red?  Can we just do Red, Orange, Yellow, Green please?  I feel like those are all colors we understand…but I digress.
We have moved to the tier that shuts down restaurants, gyms, churches, and…*gasp* hair salons.  Despite the fact that we kinda knew the numbers weren't good and 'purple' (whatever that means) was in our future, I didn't see my stylist.  My husband has actually been coloring my hair every 8 weeks or so since the pandemic.  Colorist? Yes.  Stylist capable of cutting hair? No.  He is not.  So now, we hit 'purple' and my normal stylist is shut down.  I cried.  A lot.
Outdoor hair cutting is permitted but the only ones available right now are the discount chains.  Yup.  Supercuts and Great Clips.  Queens and Kings of the $15 haircuts.  I've never been anywhere other than salons but desperate times call for desperate measures.  My daughter also needed her first haircut.  Yes friends, I know she she's 5.  We're always a little late to the game.  Brushing her hair has been like brushing a dollar store doll.  Horrific knots and jagged ends.
The discount hair chains don't do appointments so I simply drove up and waited for what surely would be the most painful and traumatizing experience of my life.  I parked.  I did some deep breathing.  I put on my mask.  I signed in online.
There was no wait.  The stylist was seriously, AMAZING.  She did an AWESOME job on my daughter and an AWESOME job on my hair.  Seriously friends.  I paid $30 combined for our haircuts and they were just as good as the ones I've been paying a lot more to have done.  Even with a $10 tip, I was still wayyyyy under what I normally pay just for me.  It was fast.  It was painless and IT WAS UNDER BUDGET.  I may have installed the app on my phone.  I may have already calendared my next haircut.  This might by an every other haircut thing now.
I'm tired of focusing on how awful things are.  Can we take a minute to say, "Covid sucks but every once in a while, we're going to try new things.  We're going to make new discoveries.  We're going to grow a little.  We're going to do a happy dance."