by Ashley
This weekend we celebrated the girls' 4th birthday! This was the first "real" birthday party we've ever had for them. In the past, we've only ever done small at-home things with our family. It's been very small (as in, me, hubs, and the girls with a 4-pack of grocery store cupcakes; no decorations and minimal gifts). But this past year changed things. They started attending other kids' birthdays at all these fancy places (gymnastics world, indoor trampoline place, etc.) and now that they totally "get" the concept of a birthday party, they really wanted one of their own.
We started off wanting to go low key – a simple backyard birthday party. But things kept getting bigger and bigger. As they do. It's hard to keep things in check!
Things can be tricky with a twin birthday, too. The party is basically "shared", but I wanted a couple little touches that made them feel special as an individual, too. So, for example, we got 2 cakes:  one for each girl. One was chocolate and one was vanilla, so it was kind of nice to have those different flavor options, too. We ended up ordering the cakes from a local bakery so it was a bit more costly than our typical go-to (a homemade cake or a Costco half sheet cake), but still under $80, tasted incredible, and with gorgeous decorations so not too bad.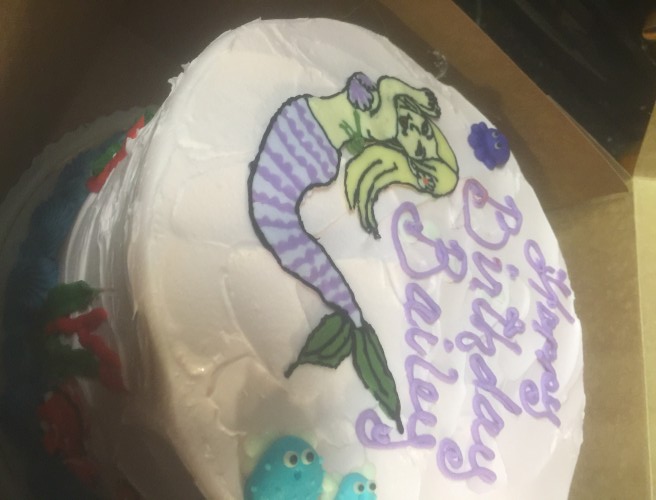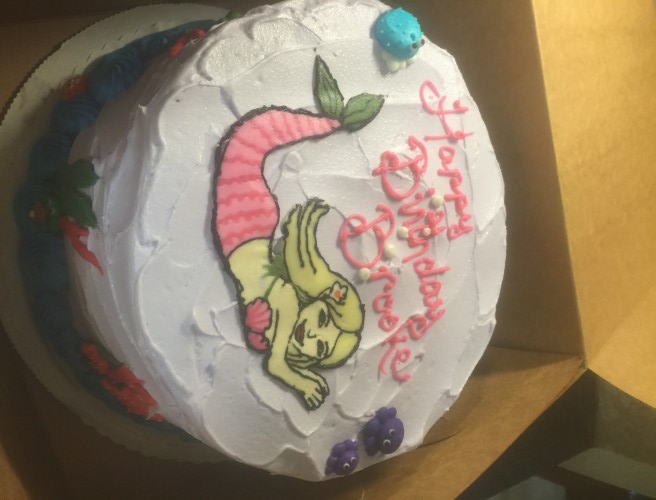 Because of the terrible Tucson heat, we knew we needed to incorporate WATER into the party. Our theme was actually an "Under the Sea" theme (side-note: it worked out really well that Finding Dory just came out in theaters because decorations were super easy to find in mainstream stores like Target and Walmart without having to order more $$$ Etsy options). I bought this inflatable pool from Amazon for $30 and it was a HUGE hit! It was much larger than you'd think and had 2 little water features (not pictured below because it was just being filled up at the time). Plus, it was still shallow enough that I wasn't nervous about kiddos drowning.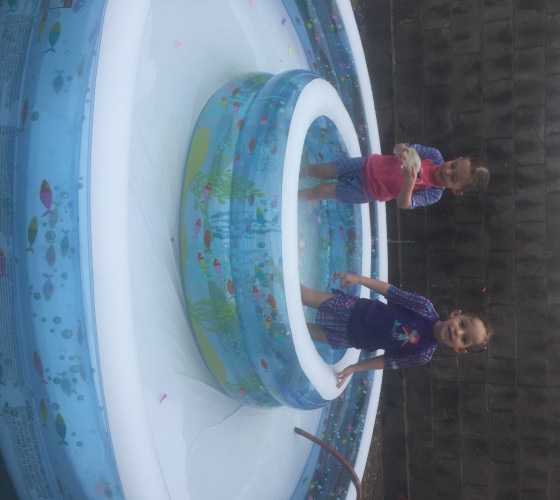 But probably the star of the party was our backyard inflatable. It ended up taking up WAY more space than we'd thought. So much so, that we ended up having to push the seating area (we borrowed some folding tables and chairs from a friend) to the side of the house. Kind of unconventional, but it was literally the only space! The kids freaked out (in a good way) over the bounce house! It also had water attached to it – it was designed to drip down the slide, so it became a water slide.  We did have one child slide down too fast and hit her nose, causing a nose bleed (no good party is immune to drama, right?), but it wasn't bad and she recovered quickly.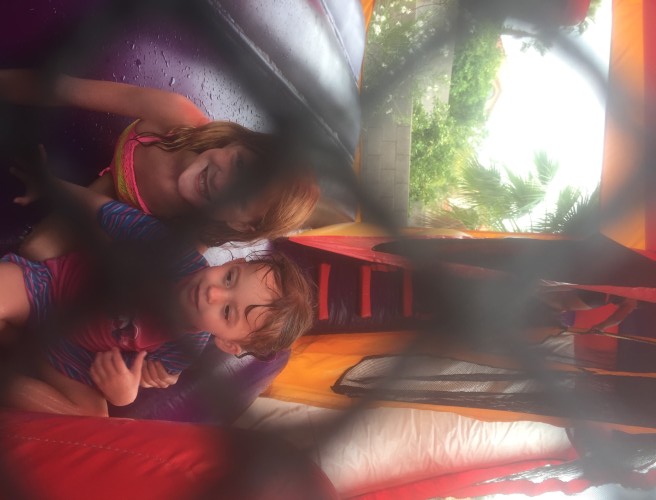 Overall, we (obviously) spent more than any other birthday, being that we've never done a party before. But it wasn't too bad, either. I still did a lot of homemade things to try to cut costs where I could.
I made a "seashell" pasta salad and a homemade fruit salad instead of buying a more costly fruit tray; I purchased a 5′ party sub for party guests, but I also home-made a ton of PB&J sandwiches for the kids that I used a cookie-cutter to cut into fish shapes (the homemade sign said "peanut butter and jellyfish sandwiches").
In that empty space I put out little jello cups I'd made for the kids. It was super cute – blue jello, one gummy Swedish fish (sunk in the "water"), and a gummy lifesaver ring (on top of the "water"). I can't steal the credit – it was a Pinterest idea.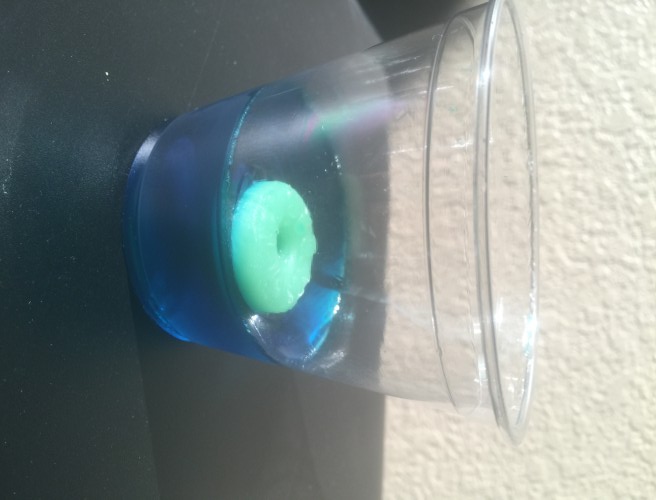 I also stole a few other ideas from Pinterest for super cheap homemade decorations made from crepe paper and blue scrapbook paper.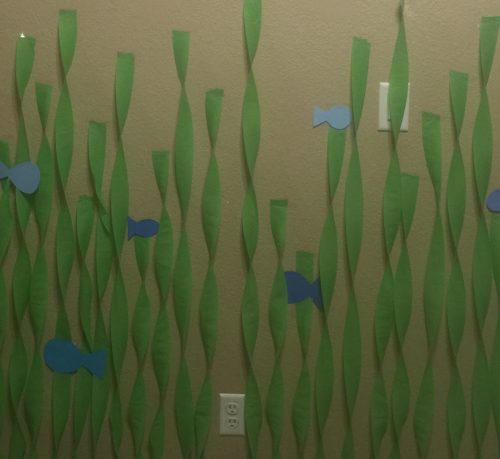 I haven't calculated final costs of everything, but there were really only two "big" costs:
Bounce house rental, $150
Cakes, $75
Everything else was pretty inexpensive (at least on a per-item cost basis). However, we sure did have water running for a solid 2 hours, so it will be interesting to get our next water bill.
Once I reconcile the budget I'll update on overall costs (in my next budget update post). I'd guesstimate that everything together was in the $600ish range, but I know those last minute grocery trips all add up, so we'll see.
What do you usually do for kids' birthday parties? How do you keep costs down for kids' parties?