by Ashley
It's summer time!!!
We're still officially recovering from the "plague" that struck our house last week. We're all finally on the mend, but still have some lingering coughs and just general lack-of-energy compared to normal. Even so, we're finally back to sleeping on our own and engaging in more normal activities (the 3-day weekend was a virtual movie marathon as no one could even get off the couch! I made a huge pot of soup on Friday and we basically ate it all weekend just to stay fed!)
This week, the girls are at a super fun summer camp! This camp was gifted by one of our grandma's to the girls and is only a 4-day (half-day) farm experience but it has truly been our best "summer camp" experience to date! Check out these huge smiles!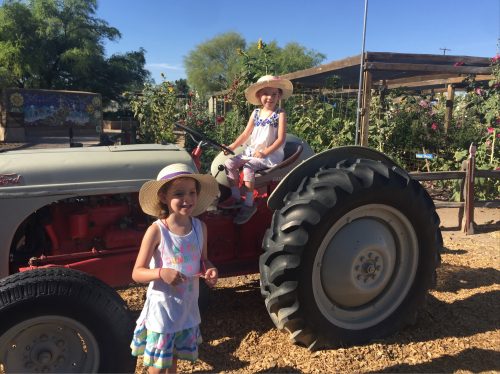 The farm is so well set up and I was shocked, as it's right in the middle of town and I'd never even known about its existence! The girls got to feed chickens (and learn how to pick them up!), check for eggs in the coop, they got to pick vegetables in the garden, wash the tractor, make fun art projects, plant basil seeds, etc. etc. etc. The camp was a little pricier than I'd typically buy (hence why it was a gift), but it has been SO MUCH FUN that we may look into it again next year! As a side-note, check out their sun hats. Those were $1 from the Dollar Tree! We were told to bring hats and realized last-minute the girls' heads had outgrown their old hats and I was not happy about having to spend unplanned money on clothing (and hats can be like $15 or $20 each!!!). I was super psyched to find these for $1, one with a pink ribbon and one with a purple ribbon (the girls favorite colors are pink and purple, respectively). Score!
The rest of the summer, we'll be doing a cheaper-priced "camp" (really more like a daycare for school-aged kids) that's closer to home. We did it last summer and enjoyed the program. It was well run, very cost-effective, and nearby. The big bonus is that 2 other family-friends are sending their kids to the same place this summer so our girls will have friends! Woohoo!!! We'll end up spending roughly about the same as we spent for childcare during the school year (our kids are in public school, but we had to pay for full-day kindergarten since only half-day kinder is state-subsidized, plus we paid for after school care). That's nice, too, because usually our summer childcare bill is more expensive than the regular school-year bill. The older they get, the cheaper the childcare becomes. Can't wait until first grade starts when we'll ONLY have to pay for after-school care!
Camps aside, we have no other real summer plans. We do usually go back to Austin once as a family and will likely do so again this year (we always just drive), but haven't nailed down specifics yet. Honestly, my semester has been over for weeks now but it feels like things have been so crazy with the end-of-school year stuff and then the sickness "plague" that wiped us out last week. So we're really just starting to get back on our feet and realize its SUMMER TIME! Hopefully we'll have some fun, lazy days ahead too. <3
What are your summer plans? How does summer childcare compare to school-year childcare in your area?