by Elizabeth S.
Hello! I thought I'd give you a peek into how I spent money on the weekend. This spending diary wasn't planned, so I definitely wasn't on my best behaviour. I think being radically honest is going to be a big part of this journey.
First, a note on last week
I didn't spend any money between Sept 30 and the afternoon of Oct 4. The hand ended up causing me extreme and unbearable pain from the surgery. I worked from home Monday in pain. I went to work on Tuesday and left in tears, and didn't go back to work the rest of the week. There was a Friendsgiving dinner at my place for 15 people the weekend prior, and I had lots of leftovers. Once I got through those, I made a big pot of turkey soup and lived on that for days on end. Mike bought us Swiss Chalet (a classic Canadian rotisserie chicken chain) with coupons we got in the mail one night to break up the monotony. I spent nada!
Friday, October 4th
I worked from home and left around 2pm for a break. For years now, I've used loyalty points cards to reduce my grocery bill. PC Optimum points came in handy to buy acetaminophen and ibuprofen for the hand pain (I alternate taking the two per the advice of my surgeon). The meds and a bottle of Gatorade came to $24 (I got economy-sized pill bottles). I cashed in $20 worth of points and as such, only spent $4 out of pocket.
On to the grocery store.
I bought kale, blue cheese, apple, red onion, and pork tenderloin for $21. With a nice dinner, one might enjoy a glass of wine. A decent bottle was procured for $14.95.
I made a giant massaged kale salad with toasted walnuts, blue cheese, apple, dried cranberry, and red onion that I nibbled on for three days. I served that with half a baked potato and scoop of greek yogurt, and jerk pork tenderloin (weird, but it all worked together).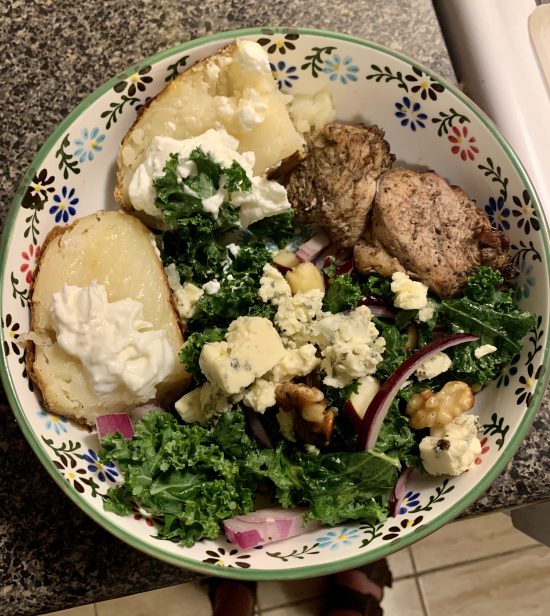 Total spent: $39.95
Saturday, October 5th
I made eggs to eat with that kale salad for brunch. I'm lucky in that I really don't mind eating the same foods over and over again. In the early evening, I walked to KFC for a dirty ol' bucket of chicken, but there was a lineup out the door. Everyone received the same mailer coupons as me! I admitted defeat and walked home to eat leftover jerk pork and salad. I was VERY close to stopping for Hakka food on my way home (my neighborhood's specialty!) but I didn't want to blow $20 for no good reason.
That evening, I had plans to go to Nuit Blanche. It's an all night art festival in Toronto, with large installations of interactive and immersive art all over the city. I hailed an Uber because I was late meeting my friends. Curling my hair with my injured hand took forever (I didn't think that one through). That cost me $26 after tip. Mike purchased us a bunch of cans of cider, which we loaded in a backpack to wander around the city with. Toronto is kind of like a big street party during Nuit Blanche, and while drinking in the street isn't legal, cops don't bother you if you're being courteous and orderly. Especially during Nuit Blanche.
I ended up getting an Uber for a very dear friend who uses a flip phone – $12.
Uber was also my way home alone at 5:30 am – $25
I ordered Uber Eats Mcdonalds breakfast for Mike and I – $18
Total spent: $81. All on Uber. Spending fail. 
Sunday, October 6th
Sunday, I slept until the early afternoon. I imagine a good deal of Torontonians did this.
In the afternoon, I went out for weekly groceries. Toilet paper, chicken, shrimp, laundry supplies, and cat food were the larger purchases. My pantry needed a few things stocked up as well. I spent $104, but have what I need for work lunches and dinner til Thursday or Friday. I made cajun shrimp and kale salad for dinner and called it an early night.
Total spent: $104
Weekend total: $224.95
Overall, I think this is a fair example of my routine weekend spending. The ride shares are gratuitous over this weekend. Other weekends, my food spending is off the rails. I have work to do here.