by Ashley
It's time for our first summer book club review!
Did you read Dave Ramsey's Complete Guide to Money with me?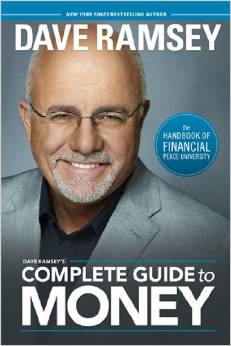 photo credit
If not, no worries! I'll be announcing the next book club read at the end of the post! And read my review anyway – maybe you'll get something from it even without reading the whole book.
Let's get started….
My general thoughts are that the book basically rehashes a lot of his other books that I've read (I've read Total Money Makeover and EntreLeadership). Even so, his writing is fun and engaging. He's definitely a charismatic speaker and it comes through in his books, too. There are a lot of repeat stories that I've heard before on the radio (and/or read in previous books), but there are certainly some new ones too. Also, he's pretty honest and open about the fact that the book covers all the same stuff he talks about on a regular basis. So you go into it almost expecting a bit of a review (at least that's the case if you're a regular Ramsey reader or radio show listener).
One of the things I enjoy is that Ramsey includes "We Did It" stories throughout the book as a motivating tool to read about real life people who applied his principles to reach their financial goals. I also like that he pulls in Twitter and Facebook posts as an added connection to readers.
Here are some quotations (some are direct quotes some are paraphrased) of things that jumped out at me as I read through the book:
If you start at age 16 and never have a car payment, but instead invest the difference, you'd retire a multi-millionaire just by avoiding car payments. Why not teach THAT in school?
Debt is a product. It's the most successfully marketed product in all of history.
Dave's grandma always said: "There's a great place to go when you're broke….. To Work!" (<<<my personal favorite quote from the book!)
Most families going through Financial Peace University program are debt free except their house in 18 months!!!
How would it feel to have absolutely no debt hanging over you?
How much of your income is currently going out in the form of payments every month (e.g., credit cards, home equity loan, mortgage, car loan, student loan, etc.)? What could you do if you actually got to keep that money?
While reading the book I also jotted down a couple of my own personal stories that related to things Dave mentioned in his book.
When I was a kid (not even 18 yet), I got a membership to Columbia House. They send you a bunch of free DVDs, but then start mailing you random DVDs every couple weeks which they bill you for in-full until you send notice to cancel your membership. I'd gotten caught up in the program and hadn't canceled in time and owed money that I never paid and, eventually, it went on my credit. Again…we're talking about something from nearly 15 years ago. The debt was small (under a hundred dollars), but it stayed on my credit forever – well past the 7 year mark – because creditors can do an account inquiry, which counts as account activity. Eventually I just paid the debt off so it would go away, but I was shocked to find out that the whole "it drops off your credit in 7 years" myth is NOT always the case. Columbia House showed me that by hanging around probably 12 years or so.
Ramsey talks a lot about how debt collectors have all kinds of terrible techniques to get you to pay THEM before any of your other bills. After my grandfather's death, my maternal grandmother (who now lives in assisted living funded for by my mother) didn't have a lot of income. She got behind on her bills and had credit card debt collectors calling her relentlessly. They convinced her to pay her credit card bill before her own mortgage and utility payments (which my mom was forced to step in and cover to keep the lights on). Obviously you shouldn't be taking on debt you can't afford to pay back. But you should also make sure you have a roof over your head and food in your fridge (and electricity to power the fridge) before paying back scummy credit card companies! No debt is the way to go!
Ramsey talked a lot about the power of marketing on buying decisions. I saw this come to light the most when I was planning our wedding 5 years ago. I swear, everything is marked up 10x just because its associated with a wedding. An identical product intended for a birthday party (instead of wedding) is so much cheaper! There's something about weddings, specifically, that make people feel obligated to spend. I remember joking with friends at the time…. "if you truly love each other, you'll order the specialty cocktail napkins with your personalized monogram! If you don't upgrade but opt to stick with the regular napkins, you're surely destined for divorce!!!" No, no one literally said those words to me. But that's certainly how it felt!!!
Overall, I'd give the book 3.5 out of 5 stars. It never drew me in to where I just couldn't put the book down. But its a quick and engaging read and has lots of helpful info, even if much of it is review.
What did you think?
What would you do with your extra money if you didn't have any debts to pay?
And….drumroll please……..
Our next summer book club selection is: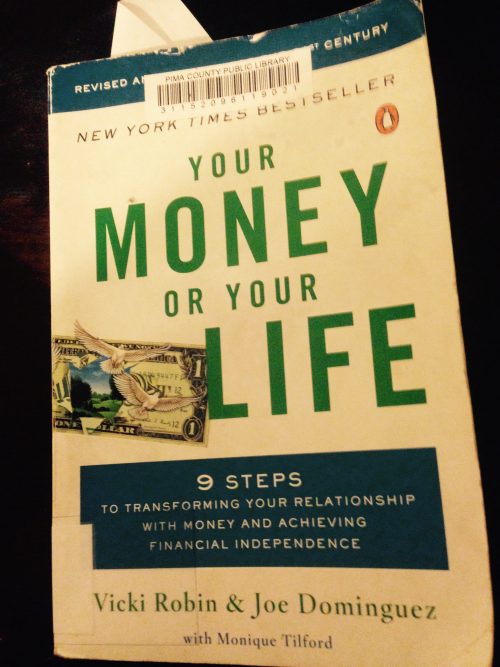 Your Money or Your Live:  9 Steps to Transforming Your Relationship with Money and Achieving Financial Independence.
So pick it up from your local library. This will be our selection for the month of July. If you have another (financially-oriented) book you'd like to read, leave a comment with your opinion and I'll select another one for August!