by Sara S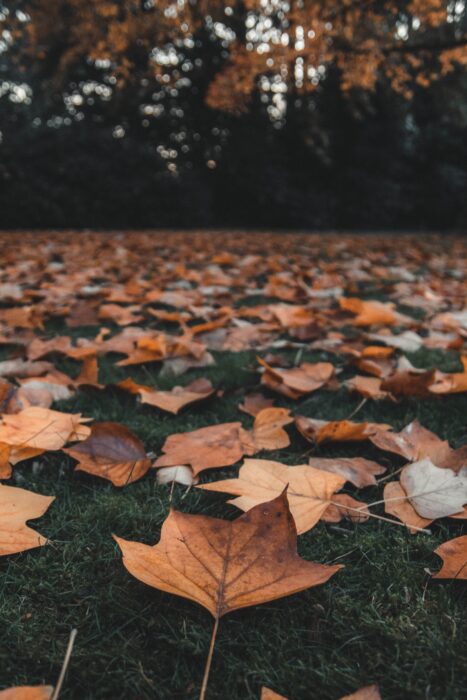 We're still taming our overgrown yard. Honestly, I really like it. I find the time spent mowing and trimming and planting to be really therapeutic and satisfying. My parents always had us work in the yard together, so it just seems normal to spend time mowing and raking each week. We are DIY lawn care people, not pay for a lawn service people.
My husband does the fertilizing and edging, and I cut the lawn and manage the garden. The kids and I weed, and we all rake.
Raking and Raking
However, we've raked so. many. friggin' leaves these past few weeks. When the lawn is dry, I can use the mower to mulch them. But it's been pouring rain, so whenever there is a break in the rain or just a light drizzle I run out to rake. I try to time it with virtual school breaks and off-work hours. It's tricky. The wet leaves are heavy, and my hands are calloused, blistered, and dyed orange from the wet leaves. It looks like I got a bad spray tan.
But I get to listen to podcasts and be outside. The kids help off and on, and frankly I treasure the few moments of solitude when they wander off. My muscles are sore, but I really do enjoy it. Plus, I know the leaves are almost (!) done falling and I'll be done for a year.
All that doesn't mean I don't notice when my neighbor's lawn service teams pull up. Big, strong guys hop out with industrial-strength leaf blowers strapped to their backs. They pile up the leaves (even the soaking wet ones!) crazy quick. Then they fill bags and bins with leaves, and drive away, leaving these yards looking neat and trimmed. All while I'm still out there raking and raking and raking…
So while I've been out there for hours and hours, I've started to think, "Is it worth it to pay for a lawn service??"
The Cost of Paying the Pros
I started researching how much it costs. According to HomeAdvisor, the average national cost for basic lawn care is $135 a month (or about $33 a week), and for leaf blowing $30 per hour. It's more if you have them come twice a week, and everything else is extra: towing away leaves, weeding, fertilizing, and more.
I bet this past week alone I've done 7 hours of raking, trimming, and bagging. I've spent $8 on several big paper leaf bags from Lowes that we fill and drop off to our city for free.
So is a lawn service worth it? It depends.
PROS: Saves you time, saves you from injury, uses higher quality tools, and involves expertise and experience.
CONS: Costly each month, takes away your chance to exercise and be outside, and means you're not always in charge of how the job is done.
Will We Stick with DIY?
Are we going to pay for a lawn service? Nope. People in this much debt just can't justify hiring pros. We're physically able to do the work, and it's not worth it to me to budget for it right now.
Am I actively looking for a $30 leaf blower on Facebook Marketplace? Yep. And I'll still notice every time a big, industrial leaf blower interrupts a Zoom call, and I'll marvel at just how fast those teams can get the work done.