by Sara S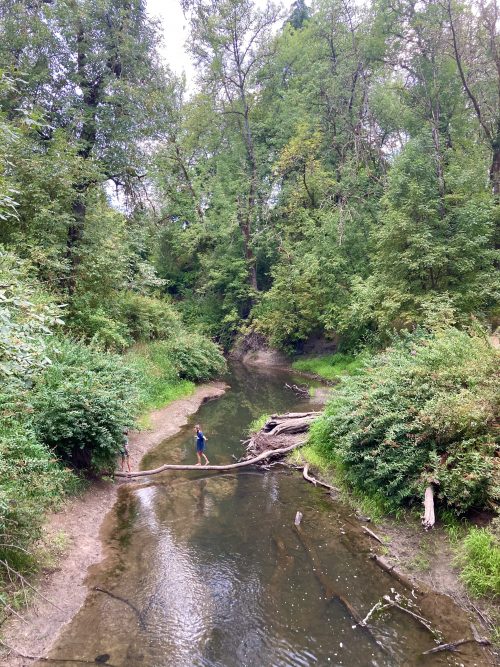 So how are you parents doing with this COVID summer? Ready to start another COVID school year? <insert eye twitch>
Although this season has been full of a lot of survival (so.much.survival), there has been a silver lining for us: we have been saving a LOT of money on summer activities for our kids. Anybody else?
In a way, it's sad because there are still so many no's for the kids. No swim lessons, no summer camps, no trips to the pool, no bowling, no playgrounds, no movie theaters. We have still vacationed a bit—camping and a trip to a cabin—but we aren't running to amusement parks, flying to visit family, or taking the kids to play centers.
But really, we are playing just as much. It's just different than usual, and typically costs us very little.
Ideas for Low-Cost Summer Activities
Here have been some ways we've been saving money on summer fun:
Playing for hours at a nearby creek and swimming hole (we didn't even know it existed until this year!)
Visiting a family of owls at dusk at our neighborhood park
Climbing trees in the woods
Creating pool parties in our backyard with sprinklers and a baby pool we bought 3 years ago
Using our annual zoo pass. It should have expired in June, but it's been extended to September due to the pandemic. Things are far from normal there (you have to wear masks, indoor sections are closed, and you have to wait turns at certain exhibits), but it's one of our favorite outings.
Taking simpler trips to the coast. Normally we'd get ice cream, ride the carousel, browse the shops, etc. Now we pack food and it's just all beach time—splashing in the waves, building in the sand, and collecting crabs and shells.
Using up craft kits and science sets. We have a bunch of half-used sets, so we've kept busy finishing them off.
Learning to play basketball. Our neighbor got a free hoop and put it up in the street. I thought our kids were too short to play, but they are figuring out how to shoot and they think they are pretty hot stuff.
Taking advantage of curbside pickup at our library. It's so nice to get stacks of "new" books again!
Letting the Kids be Bored
Honestly, letting our kids get bored has been enlightening to me. We don't keep a super structured life for them, but I still worry about keeping them busy in the summer. But they have gotten so creative at home, and that doesn't cost a cent! They make up games on the trampoline, create cool LEGO houses, and play airplane and travel to cool places.
My favorite game they created uses planks of wood to launch apples they find on the ground from a nearby tree. The amount of time they spend on this alone cracks me up, and they think it's hilarious.
Why did I ever worry about spending money on keeping them entertained?? I hope I never forget how much joy that these low-cost summer activities has brought our family.