by Beks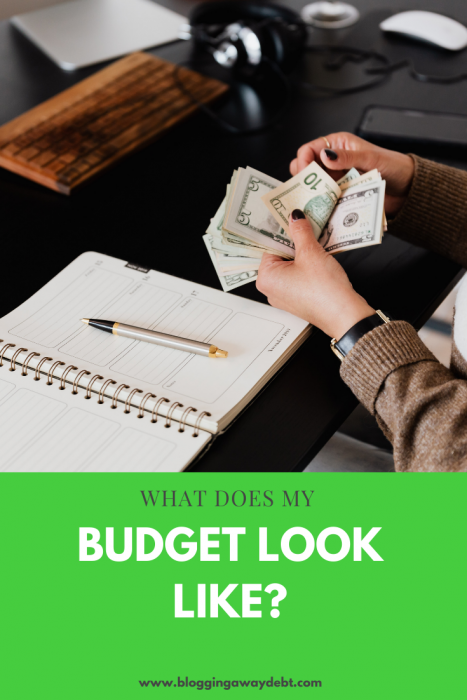 Yes, I know I'm opening myself to quite a bit of scrutiny here but I wanted to give you a peek behind the curtain of our budget. This isn't a 'pie in the sky budget', this is literally our budget every month. We make adjustments as needed and learn to roll with the punches. We've been using YNAB for 6 years and it's fun sometimes to look through budgets from years ago to see how our spending has changed.
What isn't included:
Charitable Giving – We give to our church and to World Vision monthly and that amount is personal.
Healthcare – That comes straight from my paycheck.
Retirement – We invest 15% into retirement. That also goes straight from my check.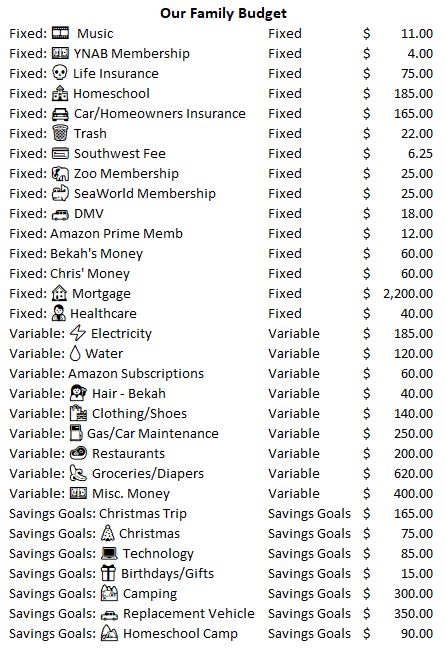 Let's break it down! I've left out the self-explanatory items.
Music Subscription – I make silly videos for the kids several times a month. This is my creative outlet and I share the videos with family (sorry, you won't see them here). I like using non-copyright music.
YNAB – Budgeting software.
Homeschool – Our kids attend a private/homeschool hybrid program. We pay for tuition, books, extracurriculars, etc.
Southwest Fee – Yes, we use a credit card. Would I recommend others use one? NOPE! But, we haven't carried a balance in 3 years. We haven't paid for a personal flight in years.
Zoo/SeaWorld Memberships – We go to the Zoo or SeaWorld every weekend we aren't camping. When things are tight, we cancel one or both.
Amazon Prime – We use Amazon Prime for TV. We don't have cable.
Bekah's/Chris' Money – We both get $60/month to spend on whatever we want.
Healthcare – This covers anything not covered by insurance. We let the amount build each month and have figured out the sweet spot of how much we usually need.
Amazon Subscriptions – This usually includes snacks for the kids, shampoo, deodorant, etc.
Gas/Car Maintenance – We spend about $150/month on gas. The rest builds up for oil changes and repairs.
Restaurants – We go to dinner 4 times each month. Chris and I each get one weekend by ourselves (we go out with friends), one weekend the entire family picks somewhere to go, and one weekend Chris and I get a date night.
Groceries/Diapers – This includes anything we buy at the grocery store or Costco. Diapers, wipes, cleaning supplies, food, etc.
Misc. Money – Anything that doesn't have a category above comes from this line item.
Christmas Trip – We take a couple weeks off at Christmas for a long camping trip. Camping fees, gas, and misc spending will run $2,000 this year.
Christmas – We spent $100 per person (our family of 6 is $600). We leave an extra $300 for gifts for family and any special dinners in the month of December. We've learned that December bleeds money so we try to prepare for it.
Technology – We have 2 cell phones and a laptop. Every year or two, one of them needs to be replaced. This also includes software.
Camping – We average our yearly spending and split that amount by 12.
Replacement Vehicle – We try to add $350/month. Sometimes that's just not possible. If we get extra money, we usually drop it here. Our current vehicles are a 2008 with 175K miles (Toyota) and a 2013 with 70K miles (Kia).
Homeschool Camp – Every year we go to a homeschool camp. Lots of homeschool families attend each year (nerds unite!) This is one of the highlights of our year. This covers our gas, lodging, food, and activities.
You're probably thinking, "Geez, if they spent a little less on camping/travel, they'd have a better retirement fund, newer cars, a nicer house, [insert whatever you think we are missing in our lives here]." Here's the thing, we are passionate about enjoying these special moments with our kids. We don't buy them a lot of things but we invest a lot of time. We fish, we hike, we explore. When my husband and I plan our year, we run through our options and we always fall back on traveling with the kids. I look back at all we've spent on camping and I have zero regrets. Seriously. None. We are adventurers….adventurers who live in a tiny house…and that's OK.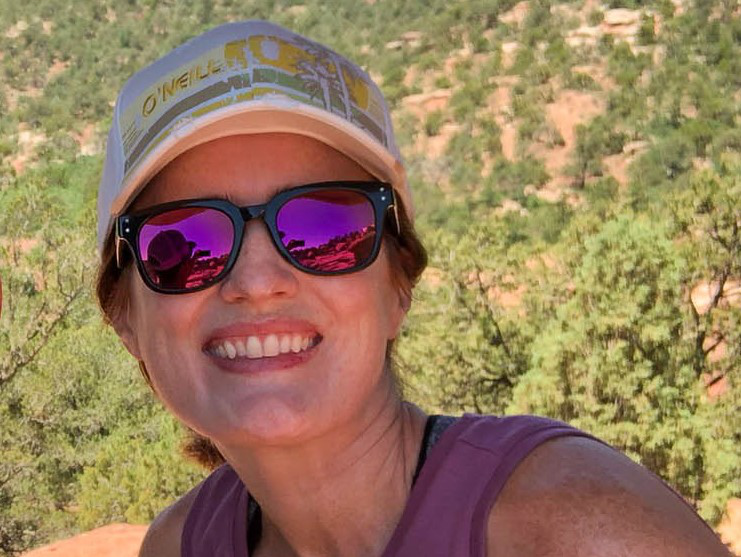 Beks is a full-time government employee who enjoys blogging late into the night after her four kids have gone to sleep.  She's been married to Chris, her college sweetheart, for 15 years.  In 2017, after 3 long years working the Dave Ramsey Baby Steps, they paid off more than $70K and became debt free.  When she's not working or blogging, she's exploring the great outdoors.