by Sara S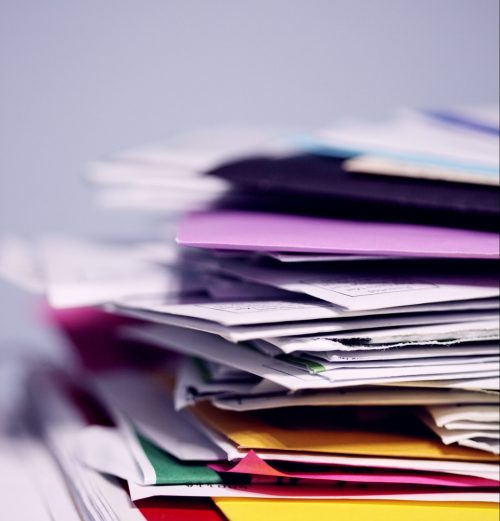 Remember my cancer scare back in March? Turns out all those tests were expensive. I'm grateful for the peace of mind, but YIKES. (I can only imagine the medical bills if I'd actually been sick!)
Our health insurance is terrible as a small business, so we have high deductibles. That means that those screenings and ultrasounds and MRIs were pricey. I was so caught up in finding out what was going on, that I didn't even think about how much it would cost.
And the timing of the bills was bad.
I don't know when anyone wants to get medical bills like these, but I can say with certainty that during a pandemic is not it. We were already stuck with no income, a broken fridge, a dead car battery, and a slew of other worries, and a $701 bill was the last thing I wanted to see.
I was overwhelmed and just too depressed. So I did the mature thing and I just set the bills aside. I mean, I stacked them on the desk… it's not like I shredded them, so that's something, right?
I just couldn't process them. And I waited so long that I was getting second notices, and in one case even a third. I usually handle paying the medical bills, but I should have confessed to my husband that I was too off my game.
So this week I finally paid them.
I picked up the dreaded stack and got on the phone. Some were small and less painful. $37 is okay. $81, ugh, but doable. But then there was that $701 one.
Gratefully, there was one silver lining:
I have a trick for reducing big medical bills.
Okay, maybe less of a trick and more of a common technique. When I started having regular sinus surgeries several years ago, I read online that doctors and hospitals will often give you a discount if you're paying in full! It was a revelation to me, but I just couldn't do it at first. It felt tacky and embarrassing.
But then I thought who am I to feel cheap? We're broke!
So I tried it. The first time it was over the phone, and it seemed less mortifying. I reached my surgeon's billing office, and red-faced and apologetic I said, "Is there a discount if I'm paying in full?" Without skipping a beat she said yes, and BOOM—I saved 10%.
Now I ask every time. Sometimes they have to check with a supervisor, and usually it has to be over $100 or more. But I've saved between 10-15% again and again. And every little bit helps.
So this week I got 10% off: $701 became $631. Still high, but hey, it's something.
I keep getting calls, wanting me to schedule another appointment to get another MRI to double check everything on my liver. However, I don't want to skip into a hospital right now without a really good reason. And let's be honest, I don't know if I can handle the cost again!
Do you ever negotiate your medical bills?