by Hope
That might be a slight exaggeration. But we do have four 8'x4′ raised garden beds full planted. We mostly did seeds this year to keep the start up costs down, but I did grab a few plants. This years crops will include:
| | |
| --- | --- |
| Tomatoes (2 varieties) | Bell Peppers |
| Jalepenos | Okra |
| Beans (2 varieties) | Spinach |
| Radishes | Carrots |
| Cucumber | Squash |
| Zuccini | Herbs (variety) |
| Watermelon | Onions (2 varieties) |
| Cabbage | Celery |
And the first bed I planted is now fully sprouted with spinach available for harvest…yeah! I keep checking the radishes but nothing yet. Remembering the first time Gymnast and I pulled radishes out of the ground and popped them right in our mouths is definitely a favorite garden memory.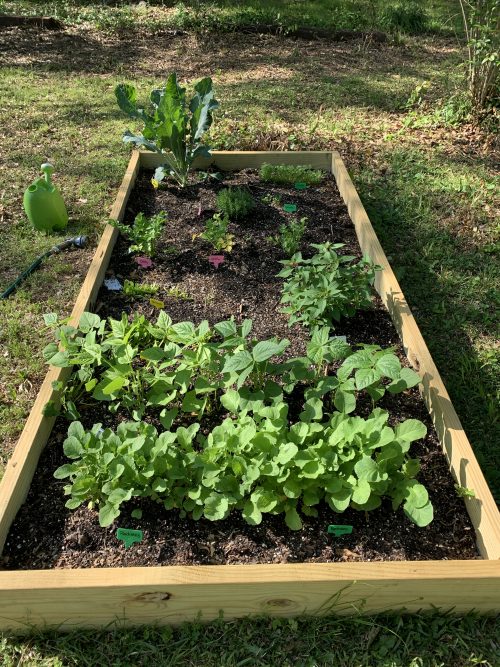 The bed Sea Cadet built me last year is already well established and is the tallest of them all. We had such good luck with our tomatoes there last year that I put them back there along with some of the deeper root veggies like celery and carrots. I didn't realize that green onions, cilantro, English lavender and rosemary would grow year round. So that's been a nice bonus.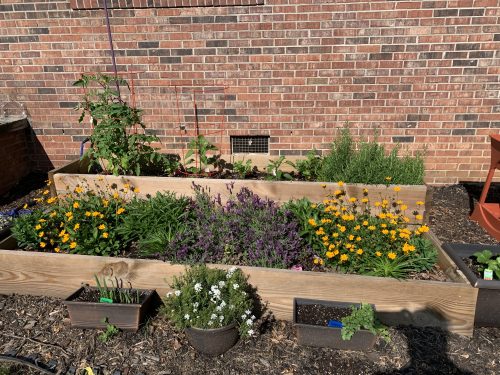 Our two newest beds are all seeded as of this weekend, and I transplanted some bean and radish plants from the first bed.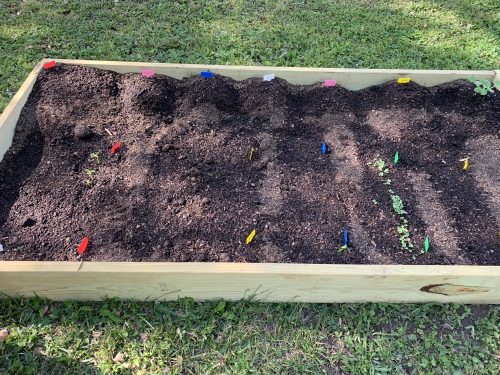 My vining plants are in these two beds (above and below.) I think the longest to harvest is the watermelon at 100 days. So hopefully we will have some late summer watermelon. I planted a smaller variety because I didn't want to have to give up entire beds for it. We will see how my spacing works out.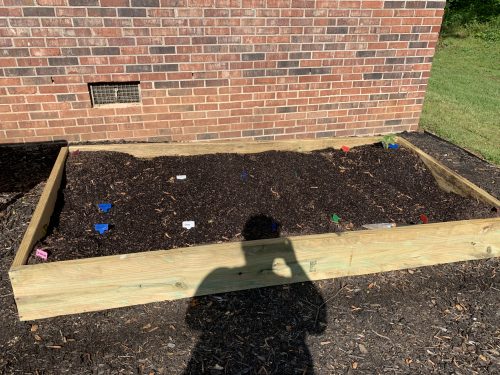 This year we are experimenting with the placement of the beds. We have one in a more shaded spot (the first one I planted,) one upfront in direct sun right next to last year's bed and one further back in the yard where it will get direct sunlight but not the heat of the day. I planted strategically to see which sun/spots do best for each vegetable.
We have mint, pineapple sage, lavender, more rosemary and garden sage sprinkled throughout the garden beds and in pots to keep it from taking over. We all love to grab mint when I make tea. And I love adding fresh cut rosemary to my chicken dishes. In a couple of months, I will add some broccoli and cauliflower to the mix, but since they are cooler weather crops decided not to waste the seeds.
Being More Strategic and Organized
My sister gave me all the colorful plastic labels for Christmas. I was excited to break them out when we started planting. With so many beds, the labels will keep me straight. I've also got a binder with all the specs on each variety I planted so I can track a little better this year.
The twins have built all these beds for me. And loved playing with their tools. (History Buff has been buying tools every couple of weeks, and I've given them both tools the last couple of Christmases.) Thank goodness for YouTube because I certainly couldn't teach them how to do miter cuts with a circular saw and such. At first they were using my hand held miter saw and box that I have in my soap making tools. That was an experience!
This year I am being more diligent about planning and preparing to harvest and put up what I can. But I know these veggies will save us a great deal on our summer grocery budget. Fresh veggies and dip are one of my favorite summer meals when everything else seems to heavy!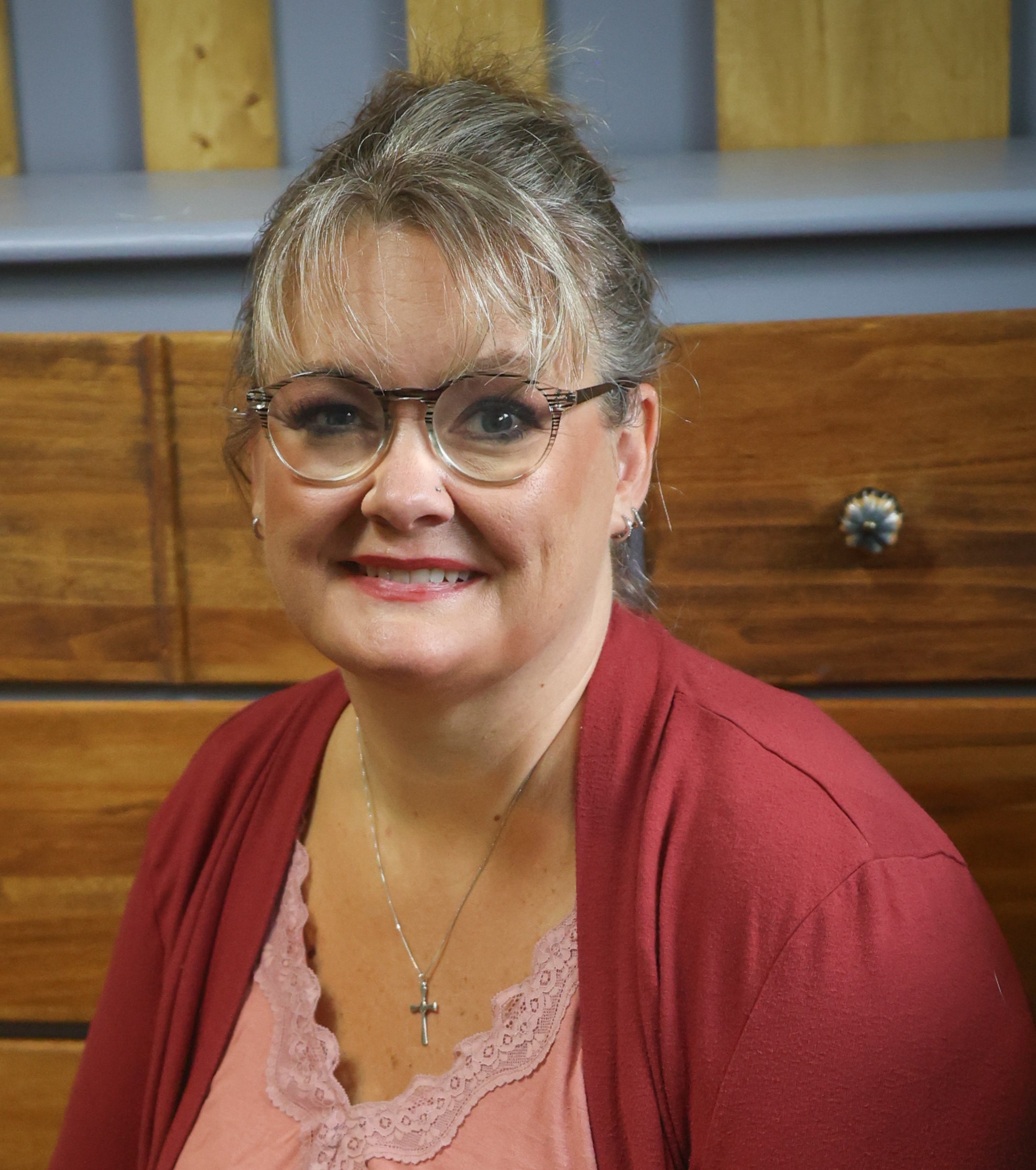 Hope is a digital marketing manager and foster/adoptive single mom to five kids. She has run her own consulting company for over 15 years and took a leap of faith returning to the corporate world in 2021 to a job and team she loves! Hope began sharing her journey with the BAD community in the Spring of 2015 and feels like she has finally mastered the balance between family first and wise financial decisions.