by Beks
Want to know how we work our budget magic?
1) We found a method that worked for us.
We were originally inspired by the Dave Ramsey method. The envelope system was the reason we became debt free the first time. It was also the reason we went back into debt. It was simply too much of a hassle and we never had the right envelope when we needed it. Chris would have the grocery envelope and which meant I couldn't stop at the grocery store if it happened to be more convenient that week. Same with gas money. Sometimes we'd drive my car more, sometimes his. We tried splitting the cash between the two of us but someone was always short which meant we pulled out the debit card (and eventually the credit card) and ended up spending money committed to something else. It was a hot mess.
We're starting our seventh year of using YNAB as our budget software. We went through quite a few methods that didn't stick but after years of searching, we found one that fit us. I've recommended YNAB to lots of folks. That said, it might not be the best fit for you. The best fit for you is the one you can stick with. If you haven't found your method yet, try try try again until you do. Envelopes? YNAB? Every Dollar? Calendars? I don't know! Try them all! Recognize that as your life changes, your method might change too.
2) We budget together every month.
Oh Lord. You know there were some nasty fights. It took us about a year to settle before it became comfortable. A YEAR. We start by reviewing the spending from the previous month which is always eye opening. There is no chance to hide anything because we both know we will look at it together at the end of the month.
Once we finish reviewing spending from the previous month, we budget for the next month. Since we are on a single income from a corporate source, it's nearly the same to the penny each month. Chris is able to pull in occasional construction side hustles but we don't budget any of that money until it actually hits his account. This month, we were hit with two unexpected expenses. Our impound account was off by $270 and we had a dental bill for $55. We struggled to figure out what categories should suffer to pay those bills. After some tweaking, we were able to shake it out. Thank goodness February is a short month!
We review the budget top to bottom again to make sure we didn't forget anything and we call it good. Thanks to those bills, this month is the tightest we've had since Chris started staying home with the kids. I smiled, looked at him and said, 'We got this!' He grabbed me into a hug and kissed me. Yeah, cheese factor was at 900%. Don't get me wrong, it doesn't always end in glitter and rainbows but most of the time… it does. It took us a LONG time to get there.
We check on the budget throughout the month. If you don't, it'll turn sideways in a hurry. By the end of the month, Chris will usually call to say something like, 'We've got $77 left in the grocery budget, do you need anything or am I good to spend the rest?' Let me be clear, neither of us asks 'permission' to spend, we simply communicate before emptying a budget line item.
We were searching to find a budget method that worked for us and somewhere along the way, our marriage grew stronger.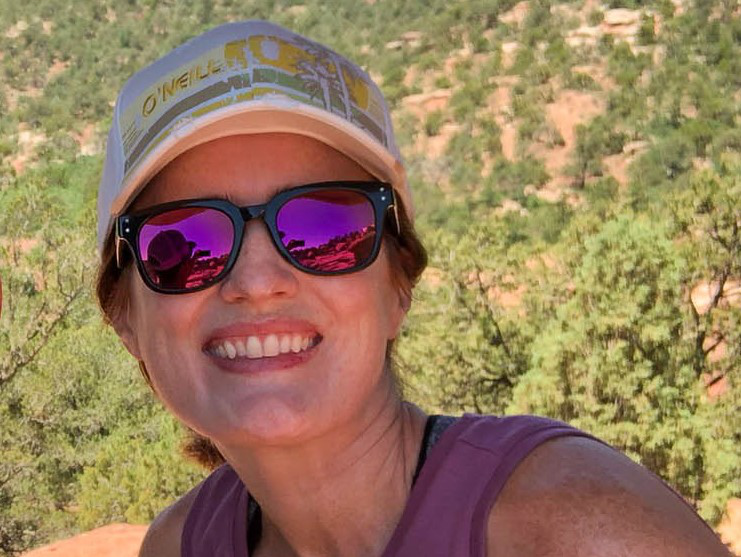 Beks is a full-time government employee who enjoys blogging late into the night after her four kids have gone to sleep.  She's been married to Chris, her college sweetheart, for 15 years.  In 2017, after 3 long years working the Dave Ramsey Baby Steps, they paid off more than $70K and became debt free.  When she's not working or blogging, she's exploring the great outdoors.