by Elizabeth S.
As I mentioned last week, I had some financial slip ups towards the end of October. So, I took corrective action in the form of financial purgatory. What did I do?
Lived out of my pantry
I have a veeeeeery well-stocked fridge and pantry for a childless, unmarried millennial. I love cooking and entertaining, and I always have stocks of staples. Dried beans, rice, pasta. Canned veggies, soups, seafood. Frozen meat, veg, seafood. I tend to buy a few of something good when it's on sale, and most of my grocery shopping (as you know) is pretty frivolous. I've certainly cut way back on my bad habit of stopping for fancy impulse groceries on the way home from work, but haven't entirely eliminated it.
I was in a good place when I realized I had spent all my spending money last week. I'm all set dog and cat food, as well as their supplies. My bills are all paid. I don't drive much and I have gas in my car. My transit card was loaded. Phew!
I ended up making a huge batch of soup from freezer stuff. There was a turkey carcass in my chest freezer from (Canadian) Thanksgiving and I always save veggie trimmings and scraps for making stock. I made a very hearty chicken soup that I ate for many days, which was probably a good idea with the raging bronchitis.
I had flour and yeast, so I made a double batch of pizza dough. One ball of dough is in my freezer, and with the other one, I made a delicious veggie skillet pizza.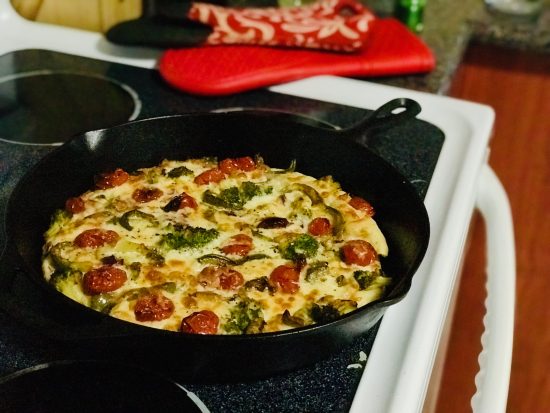 I was proud of this meal.  There was frozen broccoli, some tomatoes and peppers that were getting a bit soft, and cheese I had laying around in the fridge. Win! Skillet pizza is super easy and cheap. I served this with a simple arugula salad (the last of my fresh veg, alas).
That's pretty much all I ate last week. I don't mind leftovers one bit.
Hijacked my grandparents' pantry
I helped my grandparents pack up this weekend, and I took three full car loads of things back to my house. The overwhelming majority of the stuff was food! They go to Costco and stock up like it's Armageddon, and I ended up with flats of barbecue sauce, jam, and juice. I don't really eat any of that sweet stuff, so I'll be donating it to the food bank. In addition, I received steaks, a giant beef roast, lots of frozen fruit and veg, and a wide assortment of cheese. They can't bring perishables on the truck (mind you, it'd be fine – we have ten inches of snow outside…), so I hit the jackpot.
Didn't go to work
I'm very lucky that my work allows for me to work from home when necessary. I was sick, so I didn't go to work last week and worked from home instead. That meant I didn't have to pay parking at the subway ($4 per day) or transit to work ($6.20 per day). I also usually buy a coffee and a bagel once a week, which is only a few bucks, but adds up.
All in all, I spent $11 in seven days. If I continue not spending this week, I'll be back on track with discretionary spending. And that's a good thing, because I need to rent a ballgown for an awards evening for work next week. The evening won't cost me anything more than the gown rental, luckily. I'll be sure to get a picture to share with you from the event!
Elizabeth is a single woman in her early 30s, working as a manager at a software company and living in the most expensive city in Canada. She hopes to blog about her journey to eliminate debt and build savings for home ownership someday. Whenever she has taken two financial steps forward, she's always taken a step back with a bad credit card purchase (we're looking at you, unnecessary iPhone of May 2019). Elizabeth lives alone with her fur kids, a dog and cat, and when she's not in front of the computer, she enjoys running, camping, reading, and baseball.