by Hope
We had a quick overnight trip to Atlanta this weekend. It was scheduled around a college visit for Princess – Spelman College. What a beautiful campus and a step into a different culture for myself and Princess' friend who accompanied us.
I was very sad to hear that they did away with their sports programs in their entirety. Otherwise, I believe it would have made Princess' short list. I was very impressed with their campus and offerings. And I'm very glad we visited.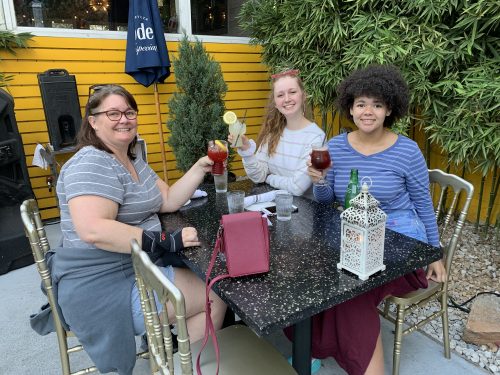 A Night Away
I used points for an overnight stay downtown, it was nice that using points also covers the cost of parking! And the girls' had a blast scootering around downtown Atlanta and taking hundreds (literally, hundreds) of pictures. (They each paid for their own scooter. Mine cost $11, they were out a bit longer then me.)
We didn't go outside of our budget for this trip at all. I had set aside monies from our weekly cash budget for food and entertainment. (I scheduled her college visits several months ago around her school breaks.)
It was a really great way to enjoy her fall break from school. And visit with a friend from her old school.
We walked for miles, enjoyed free Cokes from the World of Coke and tried out an amazing restaurant that I found on Yelp – Poor Calvins! The restaurant was a bit pricey, but we all shared an appetizer and the special of the day. It was a great way to enjoy the experience without breaking the bank!
Because we didn't have reservations (didn't realize I had picked somewhere that required them,) they let us eat outside. It was a wonderful adventure, especially after a 2 mile scooter ride from our hotel Friday night.
Next weekend, Princess is off on a retreat with some girls from school. (Sponsored by another family, so no cost to us.) I have plans to finish my Christmas shopping/making for our Texas family. And to do a purge of my bedroom and living room.