by Hope
I decided that one of the presents for the family would be a trip to Stone Mountain Christmas. For years and years, we were blessed to live literally next door to Busch Gardens Williamsburg and almost always had season passes or attended their Christmas programs. I/we've missed those family outings.
And even though I did splurge on Universal passes last year for the littles and I, we only went twice. (I know bad financial decision, I've learned, I promise!)
Old Fashioned Family Fun
The idea came when we drove past a billboard for it on our roadtrip to Texas last month. I'm just ready for some good old fashioned family fun! But the tickets prices…eek! They would take up almost a 1/3 of my Christmas gift budget. And while I am doing great at staying in budget, really well in fact, I didn't want to use quite so much on this excursion.
BUT…a quick search on Groupon and SCORE!!! 4 Christmas Tickets including all Christmas activities for $96 (a $31 savings off the online price.)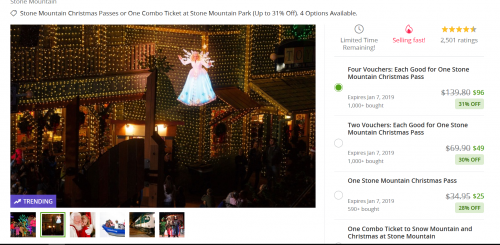 The kids and I are all excited for a weekend of fun, together as a family. All done and ready for Christmas. It will be a blast!
Discount on Groupon
As a sidenote, Groupon has a website banner offering an additional 25% local deals through tonight. If you are Groupon shopper, now would be a great time to check it out. Use the code: FRIENDS to receive the additional discount on some deals. (My Stone Mountain passes were not eligible, but I am still quite happy with my savings!)
This is not a sponsored post, I just got a good deal and know others could use some good deals this time of year. I hope you find something local in your area to experience with your family and/or friends this holiday season!
All of our Christmas traditions are newer to us these last couple of years. And with Gymnast missing this year, for the first year ever, I need some joy and distracting family fun. I think this will hit the spot for me.
What are your Christmas traditions? Do you add new ones?