by Ashley
This Thanksgiving will likely be tough. It will be my first holiday without the girls.
Speaking objectively, I'm going to be fine. I'll celebrate our Thanksgiving together a day early or a day late. I've been invited to a friends for a Thanksgiving meal on the actual day so I'll have some distraction and some good food and good company. It will be fine.
But also…it will be hard.
While I was at Ragnar, I was talking with a teammate about the upcoming holiday. As part of the context of the Thanksgiving holiday, I mentioned how I don't own an actual table anymore. I left it when I moved, so I only have 2 barstools that sit at our kitchen island. For our Thanksgiving (as with every other meal together), the girls sit at the island to eat and I typically just stand. It's not ideal, but I don't want to invest in a table right now so it is what it is.
One of my teammates, sadly, is soon moving out-of-town soon. Her husband took a great job opportunity over the summer and they've been living apart since then, but it came to a point where she decided she needed to join him. They've bought a new house and have started furnishing it with new items. She mentioned that she was planning to leave her table behind, being that they just bought a new one.
A few days after the race, I texted her about the table. Whether it was still available and what it looked like.
She sent me a picture of a similar item, saying it was like this but hers was dark brown: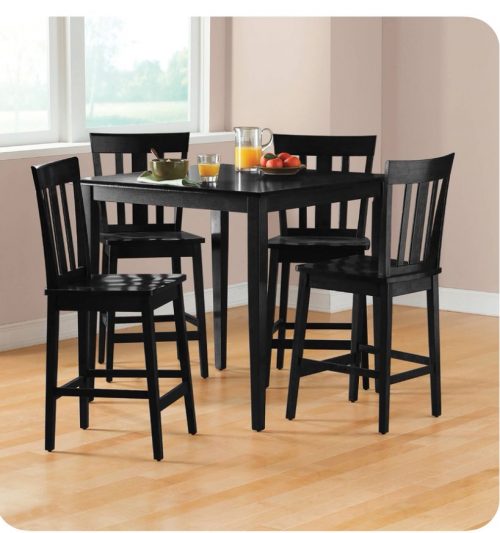 Not big, but it's all the girls and I would need. And it's compact enough that I think I could transport it in my SUV.
I asked ow much she wanted for it and she said "Nothing – you'd be doing me a favor by taking it away!"
We've arranged for me to go pick it up one night after work this week. I'm not expecting anything super fancy, I know it's been used. But getting a real table where we could all sit down to eat together again would be a real blessing. Especially for free. And right before Thanksgiving! Talk about perfect timing!
It's been a tough year. I'm counting my blessings wherever I find them. I'm thankful for the Thanksgiving table, and am looking forward to celebrating the holiday together around our NEW table in a week and a half!