by Hope
Have you ever been to Top Golf? Neither my kids or I have ever golfed. But while we are here in Texas, we were looking for things we could do together and the 3 grandkids who are here (my two younger ones and my brother's son) would enjoy.
Finding free and low cost fun for a group of 10 (my parents, 3 brothers, sister and 3 of 5 grandkids) can be challenging. It is especially hard when you consider age difference, physical requirements and interests. I was thrilled when Top Golf was brought up as an option. It seemed to satisfy all requirements for some family fun!
After doing research on the list of possible activities my dad compiled, we settled on Top Golf. You rent the bays by the hour and up to 6 people can play for that rate.
Top Golf Pricing
There are the prices at the Austin, TX location.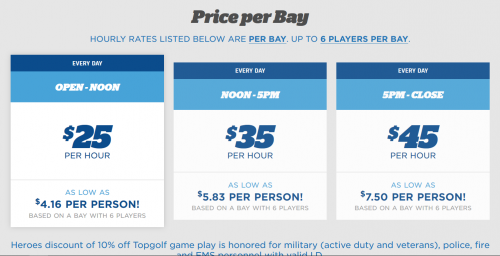 I have to say, whether you are a golfer or not, a $25 per hour price tag for something you can do with 5 friends or family members is not a bad deal. As they point out, if you are splitting the cost, it's only $4.16 per person before noon! Even I can afford that kind of entertainment.
And, of course, it's even cheaper if you qualify for their 10% Heroes discount for military, police, fire and EMS workers. We don't qualify this time because my dad didn't go and Sea Cadet is not with us (he is studying to be an EMT.) But we definitely would have taken advantage of that offer if we could.
Needless to say, we were up early and piled in my parent's minivan to have some fun at Top Golf.
What cost effective, fun family activities have you found when you are together? Tell me the good, the bad and the must do!